Bosnians use their experience of the war in the Balkans to help Ukrainians
Comments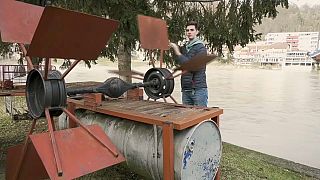 Bosnians are using their experience of the war in the Balkans to help Ukrainians survive the consequences of the Russian invasion.
Thirty years ago Serbs laid siege to Goradze for a long time. The residents of the city were often left without electricity and had to come up with their own ways of generating power. 
One way was to use the flowing waters of the River Drina as a source of hydroelectric power, but to harness it they had to make their own generators. 
They would use anything they could scavenge from old vehicles and equipment found in bombed-out factories.
One of the people involved was Aziz Lepenica, a retired engineering professor.
"We had no drawings, there was no time for that at the time," explained Aziz. "We made everything in our heads. It was a difficult time, but our morale was high."
Goradze's Regional Governor, Edin Culov, said friends and acquaintances who work for the European Union's mission to Bosnia based in Sarajevo, contacted him late last year seeking information for a humanitarian effort to provide Ukrainians with an alternative source of electricity.
"In five or six days we collected everything we could find. We even put it out on the radio and asked people to help. We sent everything to the EU and they have already shared it with Ukraine."
Gorazde was under siege by Serbs for a long time. Residents suffered continual sniper and artillery attacks. The mini-power plants became a symbol of their resistance and determination.
The town held out and became the only enclave in eastern Bosnia never to be occupied by Serb forces.
To see the report, click on the player icon above