Houses cut off in central Latvia due to the worst flooding in decades
Comments
By Euronews with AFP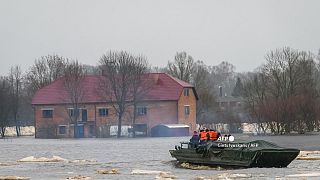 -
Copyright

GINTS IVUSKANS/AFP or licensors
Rescue operations are continuing in central Latvia's following one of the worst floods to hit the Baltic country in decades.
Raivis Ragainis, the mayor of Jekabpils, which is some 120 km southeast of the capital Riga, said on Monday that the flood waters were subsiding and had dropped some 45 centimetres.
 "At the moment, the river has reached its limits, we have all communications, but, of course, the level is still very high, the ice has not moved, nor does it show any desire to do. We're doing everything we can," he said.
While the water level in the Daugava River is reducing slowly, according to officials, it remains critically high at 30 centimetres above the level considered dangerous.
Ragainis also said that emergency services may start to pump water and noted that efforts were being made to strengthen Jekabpils' protective dam, however, drifting ice continues to obstruct the flow of water.
Meteorologist Toms Bricis said that the floods experienced this winter are unprecedented in Latvia.
In 1981 the water level was actually five centimetres higher, but this time around, flooding occurred much earlier than predicted. 
The country usually experiences flooding in spring but unseasonably high temperatures combined with heavy rains, have resulted in a huge snow and ice thaw which has seen road and school closures, public transport service cuts and large-scale evacuations.
The Daugava is usually ice-bound until the spring.
Since January 8, 34 residents have been rescued. However, police have said that many people are refusing to evacuate and are attempting to live on the top floors of their homes.
The government has so far not declared a state of emergency and has said that the flooding is a local problem. According to Riga, local services will handle rescue and dam fortification efforts.
Latvians have sent donations totalling €30,000 and have collected sandbags and essential supplies to help those affected.
Watch the video in the player above.