Construction begins for Greek gas-fired power plant hoping to target Balkan market
Comments
By Euronews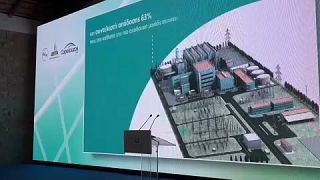 -
Copyright

Euronews Greece
In Alexandroupolis, northern Greece, construction is underway for a new gas-fired power plant. It will use liquified natural gas from a floating station that is also being built in the area.
For Greece, it's a major step to increase its potential for electricity exports. For Europe, it is another means to support the continent's energy independence.
Bulgaria will be the first country to import electricity from the plant, which is set to open in 2026.
"We welcome the inauguration of the project for the construction of the gas-fired power plant," Bulgarian caretaker energy minister Rossen Hristov said at a ceremony marking the build. 
 "It will provide greater stability in the region and provide energy security not only for Greece but also for southeastern Europe, where demand for electricity is growing every year."
Athens said it planned to use the plant to export electricity to the wider Balkan region.
"We can provide power not just to Bulgaria, but also to North Macedonia, Kossovo and Serbia," Independent Power Transmission Operator of Greece president Manousos Manousakis said. 
 "We are working on building closer electricity interconnections."
Watch Euronews' Symela Touchtidou's report in the video above.