Italian football legend Gianluca Vialli dies of pancreatic cancer
Comments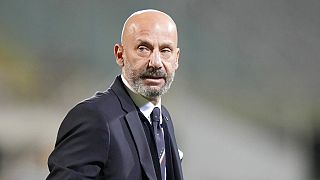 Italian football legend Gianluca Vialli has died aged-58 at a London clinic following a long battle with pancreatic cancer.
"It is with immeasurable sadness that we announce the passing of Gianluca", his family said in a statement on Friday. 
"He passed away last night surrounded by his family, after battling the illness for five years with courage and dignity. We thank the many who supported him over the years with their affection. His memory and his example will forever live in our hearts".
Vialli had been diagnosed with the tumour in 2017.
In 2018, he announced he was in remission, and at the end of 2019 took up a coordinator role with the Italian national football team, whom he led to a Euro win in 2021 with former teammate Roberto Mancini.
"We have a relationship that goes way beyond friendship," Mancini said at the time. "He's like a true brother to me."
Vialli's conditions however deteriorated last December, forcing him to step down from the role.
He was a strong as well as technically gifted striker.
He scored 286 times during his nearly 20-year-long career, managing to win all major trophies at club level.
His most remarkable achievement was perhaps a Serie A title with Sampdoria in 1990-1991, the only major national title the Genoa club won so far, as well as one of few the Inter-Juventus-Milan triad did not manage to conquer.
Vialli also lifted numerous European cups, most notably a Champions League and a UEFA cup with Juventus FC, as well as two Cups' Winners' Cups with Sampdoria and Chelsea FC, where he ended his player career.
He also played for Italy's national team from 1985-1992, making 59 appearances and scoring 16 goals.
Vialli was a hugely respected player and tributes for him are pouring profusely from the world of football and beyond.
"We will never forget you goals, your legendary overhead kicks, as well as the joy and the emotion you gave to the entire nation with that hug with Roberto Mancini after winning the Euros", says Italy's PM Giorgia Meloni.
"But, first and foremost, we will never forget the man. To God Gianluca Vialli, a lion inside and outside the pitch".
Tributes are also coming from former teammates, such as Dutch legend Ruud Gullit, as well former clubs like Juventus and Chelsea FC.