Does Prince Harry's claim of killing in Afghanistan threaten his security?
Comments
By Rhal Ssan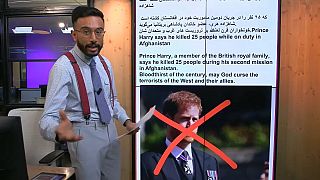 In his memoir 'Spare', the Duke of Sussex has said he killed 25 Taliban soldiers during his two tours with the British Army in Afghanistan.
While it's not illegal for former British soldiers to talk about how many people they have killed, it goes against convention and the revelation has been heavily criticized online.
One former British Royal Navy serviceman took to Twitter, saying:
"I've always had time for Prince Harry, but his boasting of how many he killed in combat (25 Taliban) has broken an unwritten rule in the Armed Forces. You don't discuss who and how many you killed, EVER."
Even a former British marine who served with Harry in Afghanistan and was described as a "hero" by the prince after losing 2 limbs had strong words for him.
"I love you Harry but you need to shut up!"
More worryingly for Harry, people in Afghanistan and the wider region have said Harry's description of his kills as "chess pieces" was insulting.
A Taliban leader, Anas Haqqani, who is also the brother of the interior minister of Afghanistan said:
"The ones you killed were not chess pieces, they were humans; they had families who were waiting for their return." It's a view shared by many in the region, who argue that the prince's comments were dehumanising. 
Another tweet was even more direct and threatening. It said, "bloodthirst of the century, may God curse the terrorists of the West and their allies."
This may make life for Harry's security team much more difficult, by potentially increasing the number of threats against him due to his time in the army.
Harry is currently suing the UK government over his police protection while he is in the UK, a privilege he lost when he stepped down as a working royal in 2020.
Some people have noted the irony online, that this revelation, which has generated near-universal criticism, could work against the Prince's hopes to strengthen the security around his family.
Watch the video in the player above.