Ukraine war: Belarus attack fears, Putin says nukes are deterrence and Ukrainian 'colossal' torment
Comments
By Euronews with AFP, AP, Reuters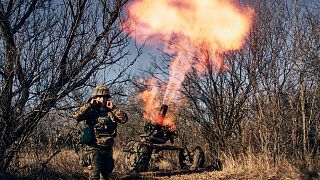 Copyright

AP Photo/LIBKOS

-
1. Belarus moves military equipment near Ukraine, prompting fears
Belarus announced plans to move military equipment and forces on Wednesday and Thursday in what it said was a "counter-terrorism exercise".
"During this period, it is planned to move military equipment and personnel of the national security forces," the country's Security Council state, according to the BelTA news agency.
"The movement of citizens along certain public roads and areas would be restricted and the use of imitation weapons for training purposes is planned."
The move has prompted fears that Russia may mount a new attack on Ukraine from the territory of its Belarusian ally.
Belarus has said it will not enter the war in neighbouring Ukraine, but President Alexander Lukashenko allowed Russian forces to be deployed at the country's southern border as a staging post for its invasion in February.
In October, Lukashenko announced a fresh Russian deployment of 9,000 troops to the country as part of a new joint military grouping between the two countries.
Ukraine has been warning for months that it fears that Belarus and Russia could be planning a new incursion.
"Enemy units are being trained on the training grounds of the Republic of Belarus," Ukraine's General Staff wrote on Facebook on Wednesday.
Last week, Russian Defence Minister Sergei Shoigu held talks with his Belarusian counterpart, Viktor Khrenin, to discuss military cooperation.
Belarus has echoed Russia by proposing to introduce the death penalty for treasonous officials and soldiers, while making an imprisonable offence to discredit the country's army.
2. 'We haven't gone mad,' Putin says in response to nuclear arms concerns
Russian President Vladimir Putin has acknowledged that his country's aggression against Ukraine is a "long process".
Putin said on Wednesday that his country's nuclear weapons serve as a tool of deterrence in its war in Ukraine.
He has repeatedly stated that Russia was ready to use "all available means" to protect its territory but has emphasised that its nuclear weapons serve only as a tool of deterrence.
"We haven't gone mad. We fully understand what nuclear weapons are," Putin said. "We have them, and they are more advanced and state-of-the-art than what any other nuclear power has."
He added: "We aren't going to brandish those weapons like a razor running around the world, but we naturally proceed from their existence."
"It's a factor of deterrence, not a factor provoking an escalation of the conflict," Putin said.
Speaking with members of the presidential Human Rights Council, the Russian President also hailed the annexation of four Ukrainian territories as a major achievement.
During the long meeting, Putin also discussed the mobilisation of 300,000 reservists that he ordered in September to beef up troops fighting in Ukraine.
So far, only about 150,000 of them have been deployed to combat zones, and the rest were still undergoing training elsewhere, according to the Kremlin.
Putin denied planning further mobilisations to boost the country's military arsenal.
"In the current conditions, it makes no sense to talk about any additional mobilisation efforts," he said. "There is no need for the Defence Ministry and the country to do that."
NATO Secretary General Jens Stoltenberg says that Russia is seeking to freeze fighting in Ukraine over the winter to build up its forces for a new assault in the spring.
The frontline in Ukraine has stabilised since Kyiv's forces liberated the city of Kherson and surrounding areas on the western bank of the Dnieper River last month.
The heaviest fighting is currently concentrated around the eastern town of Bakhmut, which Russian forces have been trying to take for months.
Ukraine's President Volodymyr Zelensky said at least six civilians were killed and five others wounded in an "Inhuman" Russian strike on the town of Kurakhove, near Donetsk, on Wednesday.
3. Poland accepts German Patriot defence system after a back-and-forth
In a U-turn, Poland's defence minister has confirmed that the country will deploy the German Patriot air defence system on its territory.
Berlin had offered the weapons to Warsaw last month after a stray missile -- believed to be Ukrainian -- crashed and killed two people in eastern Poland.
The Polish government then asked Germany to send the units to Ukraine instead. 
Germany refused, saying the Patriot system was part of NATO's integrated air defence and could only be deployed on NATO territory.
"After talking to the German Defense Ministry, I was disappointed to accept the decision to reject Ukraine's support," Mariusz Blaszczak wrote on Twitter on Tuesday.
"So we proceed to working arrangements regarding the placement of the launchers in Poland and connecting them to our command system," he added.
"Placing the Patriots in western Ukraine would increase the security of Poles and Ukrainians."
Poland's initial move to reject Germany's offer had threatened to cause tensions between the neighbouring NATO allies.
Poland's ruling conservative party faced significant criticism from politicians and commentators for potentially risking the nation's security amid the Ukraine war and seeking to stir up anti-German sentiment ahead of next year's election.
Pawel Kowal, an opposition lawmaker, said the government's back and forth didn't look serious.
"How is Poland to be taken seriously with such a government? We take Patriots — we don't take — we take ..." he wrote on Twitter after Blaszczak's announcement. "But pressure makes sense. So do the polls on German patriots. Poland will be safer with them."
On Tuesday, the US also approved the sale of advanced Abrams Battle Tanks, other combat vehicles, and assorted weaponry to Poland worth around $4 billion (€3.8 billion).
The US State Department said the equipment would "improve Poland's capability to meet current and future threats by providing a credible force that is capable of deterring adversaries and participating in NATO operations".
NATO countries have already supplied Ukraine with billions of euros worth of weapons, including modern air defence systems, but have avoided sending the long-range Patriot system.
4. Ukrainians are suffering 'colossal' torment, says UN aid chief
The United Nations humanitarian chief has decried the "colossal" torment Ukraine is suffering from "senseless war".
Martin Griffiths said "the widespread death, displacement and suffering" in Ukraine following the invasion had been exacerbated by recent strikes on the country's energy infrastructure.
Over 14 million people are now forcibly displaced from their homes, including 7.8 million living across Europe and 6.5 million still within the country, he said.
At least 17,023 civilians have also been killed, including 419 children, according to the UN human rights office.
Russian forces killed at least 441 civilians in the early days of the invasion, it added in a report.
"There are strong indications that the summary executions documented in the report constitute the war crime of wilful killing," UN High Commissioner for Human Rights Volker Türk said. Russia has always denied allegations of war crimes.
Millions still in the country have been left without heat, electricity, and water in sub-freezing temperatures this winter, Griffiths added.
This year, the UN humanitarian appeal for 2023 is a record $51.5 billion (€49.6 billion), up 25% from 2022.
His words were echoed by the United States and its Western allies at a UN Security Council meeting on Tuesday but were strongly opposed by Russia.
Russia's UN ambassador, Vasily Nebenzya, has insisted that the country will continue conducting "precision strikes" and claimed civilian infrastructure wouldn't suffer if Ukraine had not placed air defence systems in residential areas.
Nebenzya told the UN Security Council that "we confirm our willingness to conduct negotiations" and that "the aim would be to eradicate the root causes that forced us to start our special military operation in Ukraine."
"Ukraine needs peace and Ukraine wants peace, more than any other country. It is our territory that has been invaded," Ukraine's UN Ambassador Sergiy Kyslytsya replied.
"Please keep this in mind every time Moscow attempts to ... persuade us that it is not the aggressor, but the victim who resists peace efforts."
Deputy US Ambassador to the United Nations, Lisa Carty, also told the 15-member council that "President [Vladimir] Putin's escalating barrages on Ukraine's infrastructure are evidence that he has no genuine interest in negotiation or meaningful diplomacy."
5. At least 16 people killed in a road accident involving a Russian army truck
At least 16 people have died after a Russian army vehicle collided with a minibus in eastern Ukraine, local authorities said.
Denis Pushilin, the Russian-appointed head of the Donetsk region, said the accident occurred near the towns of Chystiakove and Shakhtarsk.
"This tragedy cost the lives of 16 people, including some of our defenders," Pushilin wrote on Telegram.
It was unclear whether the death toll included soldiers or civilians on board the minibus. Four other people were injured in the collision.
Donetsk is one of the four regions of southeastern Ukraine that was annexed by Moscow in September, a move that has been slammed by Kyiv and its western allies.
6. US 'not encouraging' Ukrainian strikes on Russian airbases
The United States on Tuesday said it is not encouraging Ukraine to launch strikes deep inside Russia, after several drone strikes, believed to have been launched by Ukrainian forces, hit Russian air bases.
"We are not encouraging and we are not helping Ukraine to launch strikes in Russia," US Secretary of State Antony Blinken told reporters.
"But what you have to understand is that Ukrainians live every day with the ongoing Russian aggression," he said, accusing Moscow of "weaponising winter" by bombing Ukraine's civilian infrastructure.
"What we are determined to do is to make sure that they have in their hands -- with many other partners in the world -- the equipment they need to defend themselves, their territory, and their freedom," Blinken added.
At least three strikes were carried out at Russian bases on Monday and Tuesday: on Engels air base, which hosts Russia's fleet of giant strategic bombers; in Ryazan, where three service personnel were killed; and in the southern city of Kursk.
Experts believe Ukraine may have used Soviet-era drones rather than modern drones.
Britain's Defence Ministry said Russia was likely to consider the attacks on Russian bases -- located more than 500 kilometres from the border -- as "some of the most strategically significant failures of force protection since its invasion of Ukraine".
Kremlin spokesman Dmitry Peskov said Russian authorities would "take the necessary measures" to enhance the protection of key facilities.
Asked earlier about the operations, US State Department spokesman Ned Price declined to attribute the recent drone strikes to Kyiv, which has not claimed responsibility.
"We are providing Ukraine with what they need to use on their sovereign territory -- on Ukrainian soil -- to confront the Russian aggressor," Price said.
US President Joe Biden has said publicly that he does not encourage Ukraine to acquire long-range missiles, fearing an escalation that could lead the US to take a more direct role against Russia.