Ukraine war: Ukrainian soldier death toll; Zaporizhzhia hope; and Biden 'open to Putin talks'
Comments
By Euronews with AFP, AP, Reuters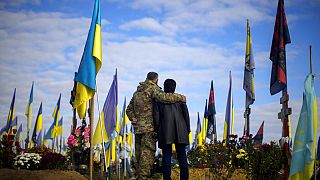 -
Copyright

AP Photo/Francisco Seco, File
1. 'Between 10,000 and 13,000' Ukrainian soldiers killed in war
Up to 13,000 Ukrainian soldiers have been killed since the start of the Russian invasion in February, a senior official said on Thursday. 
Mykhailo Podolyak, an advisor to Ukrainian president Volodymyr Zelenskyy, estimated that 10,000 to 13,000 servicemen and women have so far lost their lives. 
Podolyak relayed new figures on Ukrainian television, but added that the number of injured troops was higher and civilian casualty counts were "significant."
In late August, the head of Ukraine's armed forces stated that nearly 9,000 military personnel had been killed.
Zelenskyy himself had stated in June that his country was losing 60 to 100 soldiers a day amid intense fighting in the eastern Luhansk region.
Russian Defence Minister Sergei Shoigu said in September that 5,937 Russian soldiers had been killed since the conflict began on February 24.
However, the number of military casualties in Ukraine is far below estimates from Western leaders, and both sides are suspected of minimising their losses so as not to dent the morale of troops and the wider public.  
Last month, the chairman of the US Joint Chiefs of Staff said as many as 40,000 Ukrainian civilians and "well over" 100,000 Russian soldiers have been killed or wounded in the war so far. He added that it was the "same thing probably on the Ukrainian side." Euronews cannot independently verify these figures.
"We are open in talking about the number of dead," said Podolyak, adding that President Zelenskyy would make the official data public "when the time was right". 
The Ukraine war is the most deadly armed conflict to break out in Europe in decades, with several thousand civilians also dying as a result of the violence.
2. Kyiv mayor urges citizens to stock up on winter supplies
Ukrainians have been bracing for freezing winter temperatures as Russia's intense barrage of missiles on power plants and electrical transformers has left millions without heat, water, and electricity.
In the capital Kyiv, Mayor Vitali Klitschko warned millions of residents that they should stock up on water, warm clothes, and preserved food to see them through the winter months.
He also urged people to consider leaving the city to stay with friends or family elsewhere, if possible.
"The temperature in the apartments may not differ much from the outside temperature," Klitschko told a security forum in Kyiv.
Russia has denied targeting civilians and says Kyiv can end the suffering of its people if it yields to Russian demands.
"Such measures have become necessary and inevitable in the face of provocative attacks from Kyiv," the Kremlin said in a statement on Friday.
Russian forces have kept up rocket attacks on Ukraine's energy infrastructure, as well as airstrikes on Ukrainian troop positions along the frontline.
The Ukrainian general staff said on Friday that Moscow's military push has focused on a dozen towns in the eastern Donetsk region, including Bakhmut and Avdiivka.
Ukraine's presidential office said Thursday that at least two civilians were killed and six others wounded nationwide by the latest Russian shelling.
Recent strikes have also been especially intense in Kherson since Russian forces withdrew and Ukraine's army reclaimed the southern city almost three weeks ago.
Three people were killed and seven wounded in Russian shelling on Kherson over the past 24 hours, the regional governor said on Friday.
Local authorities said about two-thirds of the city of Kherson had electricity as of Thursday night after new Russian strikes had cut power once again.
3. UN nuclear chief hopes to find solution for Zaporizhzhia plant by year-end
The head of the UN's nuclear watchdog has expressed hope that a protection zone around the Zaporizhzhia power plant could be agreed upon by the end of the year.
Both Ukraine and Russia have accused each other of shelling near the facility, prompting fears of a nuclear disaster.
The International Atomic Energy Agency (IAEA) has repeatedly condemned the "unacceptable" missile strikes at the Zaporizhzhia plant and called for a protection zone to be established.
"My commitment is to reach a solution as soon as possible, I hope by the end of the year," IAEA chief Rafael Grossi told Italian newspaper La Repubblica.
"Our goal is to avoid a nuclear accident, not to create a military situation that would favour either one party or the other", he added.
Grossi has also not ruled out meeting Russian President Vladimir Putin as well as Ukrainian President Zelenskyy.
Europe's largest nuclear power plant at Zaporizhzhia provided about a fifth of Ukraine's electricity before Russia's invasion.
Moscow's forces have occupied the plant since March and said in October it was putting the plant under Russian control. According to Kyiv, Russia has positioned 500 soldiers at the facility.
The six-reactor facility has not been producing electricity since September and has been forced to operate on backup generators a number of times.
This week, Russia's atomic energy firm Rosenergoatom appointed a Ukrainian engineer, Yuri Chernichuk, to become the new director of the plant.
Kyiv has slammed the move and accused Chernichuk of "betraying Ukraine and siding with the enemy".
The Ukrainian nuclear operator Energoatom claims that Russia has used "pressure", "intimidation" and "blackmail" to try and force Ukrainian workers at Zaporizhzhia to sign new contracts.
4. Biden and Macron pledge to hold Russia to account for 'war crimes'
US President Joe Biden and his French counterpart Emanuel Macron have pledged to hold Russia accountable for "widely documented atrocities and war crimes" in Ukraine
The leaders reiterated "their steadfast resolve to hold Russia to account" for crimes committed both by its armed forces and any mercenaries.
The two leaders released a joint statement on Thursday after their meeting at the White House.
Joe Biden also said he would be willing to speak directly to Vladimir Putin about ending the war but that there was no sign of that happening.
In March, a month into Russia's invasion, Biden had called Putin a "butcher" over his actions and said the Kremlin leader "cannot stay in power".
Russia has accused the United States and NATO of playing a direct and dangerous role in the war.
Macron also said he would continue to talk to Putin to "try to prevent escalation and to get some very concrete results," such as the safety of nuclear plants.
"We will never urge the Ukrainians to make a compromise which will not be acceptable for them because they are so brave," Macron said in Washington DC.
In response, the Kremlin said it was open to a possible settlement in Ukraine but that the US and its western allies should recognise annexed territories as Russian.
Moscow held referendums in four regions of southern Ukraine -- Donetsk, Kherson, Luhansk, and Zaporizhzhia -- which Kyiv and its partners have labelled an "illegal sham".
In a phone call with German Chancellor Olaf Scholz on Friday, Putin said the Western line on Ukraine was "destructive" and urged Berlin to rethink its approach.
"Attention was drawn to the destructive line of Western states, including Germany, which are pumping the Kyiv regime with weapons and training the Ukrainian military," the Kremlin said.
"All this, as well as comprehensive political and financial support for Ukraine, leads to the fact that Kyiv completely rejects the idea of ​​any negotiations."
5. Ukraine bans religious organisations linked to Russia
Ukraine says it has now banned the activities of religious organisations that are "affiliated with centres of influence" in Russia.
President Zelenskyy signed a decree on Friday that will impose sanctions on any representatives of illegal religious groups.
Kyiv said it would also examine the links between the Ukrainian and Russian Orthodox churches.
Ukrainian officials suspect the Ukrainian Orthodox Church (UOC) is promoting pro-Russian views and that some priests may be actively collaborating with Russia.
Moscow Patriarch Kirill, the head of the Russian Orthodox Church, has justified Russia's war in Ukraine as part of a "metaphysical struggle" to prevent a liberal ideological encroachment from the West.
Kremlin spokesman Dmitry Peskov accused Ukrainian authorities last week of "waging a war on the Russian Orthodox Church."
The UOC had declared its independence from Moscow in May over Russia's invasion.
Last month, Ukraine's Security Service (SBU) raided the Pechersk Lavra monastery complex in Kyiv after a priest spoke favourably about Russia during a recent service.
The Security Service said its agents had searched more than 350 church buildings in total, including at another monastery and in a diocese of the Rivne region.
More than 50 people underwent in-depth "counterintelligence interviews, including using a polygraph," as part of the investigation, the agency added.
The SBU said its activities were part of its "systematic work to counter the subversive activities of the Russian special services in Ukraine."
6. Russia implements expanded 'foreign agents' law
A new expanded law on "foreign agents" and overseas influence has come into effect in Russia.
Russian authorities can now consider anyone under "foreign influence" to be an agent of another country.
Under previous versions of the law, officials had to show that an organisation or individual had received financial or material assistance from overseas to be designated an agent.
The new law is the latest move in a long-running crackdown on opposition supporters, independent media and human rights activists amid the Ukraine war.
"Foreign influence is considered to be 'the provision of support by a foreign source to a person or influencing a person including by coercion, persuasion or other means'," according to a statement from the Duma, the lower house of parliament.
Organisations – including media outlets -- must publicly identify themselves as "foreign agents," a move critics say is a way of discrediting them.
The new version of the law also prevents foreign agents from holding public events, teaching in state schools and receiving state financial report.