Ukraine war: Kyiv forces approach Kherson, thousands without power, dam warnings
Comments
By Euronews with AP, Reuters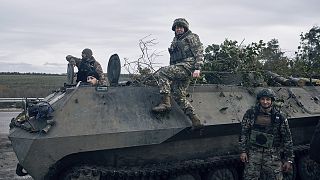 -
Copyright

AP Photo/LIBKOS
1. Russia's Shoigu told his Western counterparts Kyiv is preparing a nuclear 'dirty bomb' attack
Russia's defence chief on Sunday alleged that Ukraine was preparing a "provocation" involving a radioactive device.
Russia's Defense Minister Sergei Shoigu made the allegations in phone calls with his counterparts from the United Kingdom, France and Turkey. 
He also spoke to US Secretary of Defense Lloyd Austin in their second call in three days, but a terse Russian readout of that call did not say whether the dirty bomb claim was also mentioned in their conversation.
Russia's defence ministry said Shoigu voiced concern about "possible Ukrainian provocations involving a 'dirty bomb,'" a device that uses explosives to scatter radioactive waste. 
It does not have the devastating effect of a nuclear explosion, but it could expose broad areas to radioactive contamination.
London strongly rejected the claims.
The British Ministry of Defence said in his call with Secretary Ben Wallace that Shoigu "alleged that Ukraine was planning actions facilitated by Western countries, including the UK, to escalate the conflict in Ukraine."
"The Defence Secretary refuted these claims and cautioned that such allegations should not be used as a pretext for greater escalation," the ministry said. 
Ukraine's presidential adviser Mykhailo Podolyak also dismissed Shoigu's claims as an "absolute and quite predictable absurdity from those who believe that they blatantly lie and make people believe in that."
The French Ministry of the Armed Forces said that Shoigu told his counterpart, Sebastien Lecornu, that the situation in Ukraine was rapidly worsening and "trending towards uncontrollable escalation".
Russian authorities repeatedly have made allegations that Ukraine could detonate a dirty bomb in a false flag attack and blame it on Moscow. Ukrainian authorities, in turn, have accused the Kremlin of hatching such a plan.
The mention of the threat in Shoigu's calls with his counterparts appeared to indicate that the threat of such an attack has risen to an unprecedented level.
2. Kherson separatists order residents to leave 'immediately'
Moscow-installed authorities urged residents in the southern Kherson region -- which the Kremlin claims to have annexed -- to leave the main city in the face of Kyiv's advancing counter-offensive.
"Due to the tense situation on the front, the increased danger of mass shelling of the city and the threat of terrorist attacks, all civilians must immediately leave the city and cross to the left bank of the Dnipro river," the region's Russian-installed authorities said on social media on Saturday.
A Moscow-installed official in Kherson, Kirill Stremousov, told the Russian news agency Interfax that around 25,000 people had made the crossing.
Kyiv's forces have been advancing along the west bank of the Dnipro river towards the Kherson region's eponymous main city.
3. Thousands left without electricity after latest Russian strikes
Russia launched a massive missile attack on Saturday, targeting critical infrastructure, Ukrainian authorities said, leaving hundreds of thousands of people in central and western parts of the country without electricity.
Using drones and missiles alike, Moscow has intensified its strikes on power stations, water supply systems and other key infrastructure across the country, the latest phase of the war as it nears the eight-month mark.
At least 18 of 33 cruise missiles launched from air and sea were down on Saturday, Ukraine's air force said in a statement. Ukrainian authorities said the air defence shot down at least another dozen Iranian-made drones overnight on Sunday.
The presidential office said in its morning statement that five explosive-laden drones were downed in the central Cherkasy region southeast of Kyiv.
Ukraine's state energy company Ukrenergo claimed in a statement that Saturday's attacks caused damage "comparable to or exceeding the consequences of the attack on 10-12 October" -- the strikes the Kremlin conducted in retaliation for the bombing of Crimea's Kerch bridge.
4. Russia 'deliberately' delaying Ukrainian grain exports
Volodymyr Zelenskyy accused Russia of "deliberately" delaying the passage of ships loaded with Ukrainian grain on Friday, restricting vital supplies for many countries in Africa and Asia.
"More than 150 ships are in a queue to fulfil contractual obligations to supply our agricultural products," said the Ukrainian President.
"This is an artificial queue, which has arisen only because Russia deliberately delays the passage of ships".
China, Egypt, Bangladesh, Indonesia, Iraq and Lebanon are the main countries impacted by the blockages, which involve "about three million tons of food".
Russia and Ukraine agreed in July to resume Ukrainian grain exports that had been languishing in silos since the start of the war in February.
Russia later criticised the deal -- brokered by the UN and Turkey -- saying its own exports were hampered by the sanctions.
5. EU agrees to increase its financial support to Ukraine
European Union leaders approved a plan to provide Ukraine with €18 billion in financial support over the next year.
This comes after Zelenskyy's warnings that Russia is trying to spark a refugee exodus by destroying Ukraine's energy infrastructure.
As a result of the plan, the 27-nation bloc would now match US financial support for the war-torn Eastern European country.
"Ukraine is telling us that they need approximately €3-4 billion per month to have enough resources for the basics," European Commission President Ursula von der Leyen said. 
That figure would be met in equal part by the EU and the US, with additional money coming from international financial institutions, she said. 
"It is very important to Ukraine to have a predictable and stable flow of income," von der Leyen told reporters. 
She said the EU is looking to provide about €1.5 billion each month, describing it as a funding amount that would be "stable and reliable."
The bloc's finance ministers have been tasked with coming up with a system for pulling together the money, which would come on top of the €9 billion in macro-financing support that the EU is already sending.
6. Zelenskyy urges West to pressure Russia into not destroying dam
The Ukrainian leader urged the West to warn Russia not to blow up a huge dam that would flood a large part of southern Ukraine as his forces prepared to push Moscow's troops from Kherson in one of the war's most important battles.
In a television address, Zelenskyy said Russian forces had planted explosives inside the huge Nova Kakhovka dam, which holds back an enormous reservoir, dominating much of southern Ukraine. 
A Russian-installed official in the region, Vladimir Leontyev, said on Thursday that Ukrainian forces had launched five missile strikes against the dam and hydroelectric power station about 70 kilometres from Kherson city.
He said on Russian TV that if the facilities were destroyed, a critical canal providing water to annexed Crimea would be cut off.
Zelenskyy has claimed Russia mined the dam and power station with plans to blow them up in what he called a terrorist act. 
The Ukrainian president warned this could unleash 18 million cubic metres of water, flooding Kherson and dozens of areas where hundreds of thousands of people live. He told the European Council Russia would then try to blame Ukraine.
7. Russian regions bordering Ukraine set up 'defensive fortifications'
The governor of the Kursk region of Russia, Roman Starovoit, said on Sunday that two lines of defence had been set up in the region bordering Ukraine to counter a possible attack by Ukrainian forces.
"This week, work on two reinforced defence lines in the Kursk region was completed," Starovoit wrote on Telegram, saying a third defence line should be built by 5 November.
"We are ready to face any attack on our territory," he said. 
For his part, the governor of the Russian region of Belgorod, which also borders Ukraine, announced on Saturday the start of defensive entrenchment in his region.
"In the Belgorod region, we have started to build defensive fortifications," Vyacheslav Gladkov said on Telegram, posting photos of several concrete blocks in the shape of a pyramid installed on the outskirts of a village.
Moscow denounced in mid-October a "considerable increase" in Ukrainian fire on several Russian border regions, including Belgorod, but also Kursk and Bryansk.
On Saturday, two people were killed in Ukrainian strikes against civilian infrastructure in the Belgorod region, and about 15,000 people were left without electricity for several hours, according to local authorities.
Ukrainian authorities have rejected the accusations. Euronews could not independently confirm any of the claims.