Final suspect in Canada's knife rampage dies, leaving behind bodies and many questions
Comments
By AP with Euronews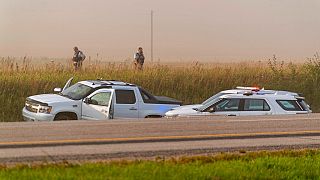 -
Copyright

Heywood Yu/The Canadian Press via AP
The last suspect in a horrific stabbing spree that killed 10 and wounded 18 in western Canada is dead, with police hoping the stunning end to a gripping hunt that stretched into a fourth day will bring some peace to victims' families.
One official said Myles Sanderson, 32, died from self-inflicted injuries Wednesday after police forced the stolen car he was driving off a highway in Saskatchewan.
Other officials declined to discuss how he died, but expressed relief the final suspected killer was no longer on the loose.
"This evening our province is breathing a collective sigh of relief," Assistant Commissioner Rhonda Blackmore, commander of the Royal Canadian Mounted Police in Saskatchewan, said at a news conference Wednesday night.
The other suspect, Sanderson's 30-year-old brother, Damien Sanderson, was found dead Monday near the scene of the knife attacks inside and around the James Smith Cree First Nation reserve early Sunday. Both men were residents of the Indigenous reserve.
Blackmore said Myles Sanderson was cornered as police units responded to a report of a stolen vehicle being driven by a man armed with a knife. She said officers forced Sanderson's vehicle off the road and into a ditch. He was detained and a knife was found inside the vehicle, she said.
Sanderson went into medical distress while in custody, Blackmore said. She said CPR was attempted on him before an ambulance arrived, and emergency medical personnel then took him to a hospital, where he was pronounced dead.
"All life saving measures that we are capable of were taken at that time," she said.
Blackmore gave no details on the cause of death. "I can't speak to the specific manner of death," she said.
But an official, who spoke on condition of anonymity, earlier said Sanderson died of self-inflicted injuries, without giving any further details.
An independent investigation by members of Saskatchewan's Serious Incident Response Team went to the arrest site and will review Sanderson's death and police conduct.
His death came two days after the body of Damien Sanderson was found in a field near the scene of the knife rampage. Police are investigating whether Myles Sanderson killed his brother.
Blackmore said that with both men dead, authorities will find it hard to figure out what set off the rampage.
"Now that Myles is deceased we may never have an understanding of that motivation," she said.
But she said she hoped the families of the stabbing victims will find some comfort that neither of the Sandersons remains a threat.
The stabbings raised questions of why Myles Sanderson — an ex-con with 59 convictions and a long history of shocking violence — was out on the streets in the first place.
He was released by a parole board in February while serving a sentence of over four years on charges that included assault and robbery. But he had been wanted by police since May, apparently for violating the terms of his release, though the details were not immediately clear.
His long and lurid rap sheet also showed that seven years ago, he attacked and stabbed one of the victims killed in Sunday's stabbings, according to court records.
The federal public safety minister, Marco Mendicino, has said there will be an investigation into the parole board's assessment of Sanderson.