Queen Elizabeth II: UK's longest-reigning monarch dies aged 96
Comments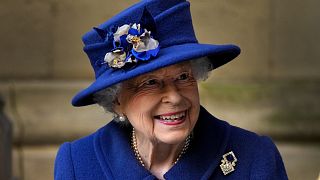 -
Buckingham Palace announced on Thursday that Queen Elizabeth II had died — bringing to an end a 70-year reign.
A statement on the royal website said the 96-year-old monarch died peacefully at Balmoral Castle in the afternoon. 
Earlier the palace released an unusual statement saying doctors were concerned for her health and were keeping her under medical supervision.
Senior members of the Royal Family travelled to Balmoral during the day to be by the monarch's side.
Elizabeth was the UK's longest reigning monarch. She took the throne in 1952 upon the death of her father, King George VI.
Her son now takes the throne and will be known as King Charles III. 
In a statement, he said his mother's death was "a moment of the greatest sadness for me and all members of my family... her loss will be deeply felt throughout the country, the Realms and the Commonwealth, and by countless people around the world".
British Prime Minister Liz Truss described Elizabeth's death as "a huge shock to the nation and to the world. Queen Elizabeth II was the rock on which modern Britain was built".
Messages of condolence and tribute have been pouring in from the UK, Europe and the rest of the world.
Buckingham Palace said the King and Queen Consort would stay at Balmoral overnight before returning to London on Friday.
See below for a summary of Thursday's developments:
09.08.2022
23:55
Britons 'shocked, devastated... not ready' for Queen's departure
Euronews international correspondent Anelise Borges has filed this report from outside the gates of Buckingham Palace in London:
"Thousands of people continue to come here to the gates of Buckingham Palace to pay their respects to Queen Elizabeth II. Many speak about shock and devastation over the news of her passing, saying that despite her age, despite her declining health, they were not ready -- they didn't think that Britain's longest-serving monarch was going to go one day.
"Elizabeth II came to the throne at the age of 25 and delivered over 70 years of service during which she was an omnipresent figure, she was the very definition of what it is to be British. She leaves behind a big void to many people here who say she was a constant presence, an uncontroversial presence in an ever-changing world, and that that granted her a lot of sympathy, not only here in Britain, but also around the world.
"She was the Queen of 15 nations, and her passing marks the end of a momentous chapter in Britain's history, with a fulfilled promise of a monarch who said she would devote her entire life to her country and its people."
09.08.2022
23:36
Montenegro's PM remembers state visit to communist Yugoslavia
Montenegro's prime minister evoked a 1972 visit by the Queen to the former Yugoslavia, then a communist state under President Tito.
Dr Dritan Abazovic tweeted a photo of Queen Elizabeth at Titograd (Podgorica) Airport, alongside his message of condolence.
09.08.2022
23:03
Tearful crowds sing 'God Save the Queen' at Buckingham Palace
(Reuters) Thousands of people gathered outside Buckingham Palace in London, shedding tears and singing "God Save the Queen" in an impromptu show of emotion as news emerged that Queen Elizabeth had died.
A double rainbow arched over the London skyline shortly before well-wishers fell into stunned silence as the palace lowered its Union Jack flag to half-staff, signifying the death of the monarch.
"We've grown up with her always being there," said consultant Margaret Parris, tears welling up in her eyes. She had travelled 32 km to the palace after hearing earlier in the day that the Queen had fallen ill.
The mood on the esplanade in front of Buckingham Palace was very different three months ago, when the Queen appeared on the balcony to huge cheers from revellers enjoying her Platinum Jubilee celebrations, which marked her 70 years on the throne.
On Thursday, a sense of anxiety turned to shock when news of her death was announced. The palace posted an official notice on the gates outside, which Londoners and tourists alike pressed forward to see.
Thousands more people started to arrive, some carrying flowers. "It felt like history in the making, so we rushed over to the palace. Quite something for a holiday," said Nabeel Dockrat, 26, a tourist from South Africa.
The sense of history passing was felt just as keenly 300 miles away in Edinburgh, Scotland's capital. 
"It's one of those days like 'where were you when JFK was shot? Where were you on 9/11?'," said Laura McGee, 37, a solicitor from Glasgow. "I think people appreciated, whether you are a royalist or not, that she really gave an amazing service and a lot to the country."
At Buckingham Palace, 22-year-old student Adam Wilkinson-Hill arrived with a bunch of white lilies on behalf of himself and a group of his friends who could not be in the capital.
"It's a massive shock to the nation," he said. 
09.08.2022
22:36
Queen 'loved France, which loved her back', says Elysée
The French presidency has paid tribute to Queen Elizabeth in a long eulogy published on the Elysée Palace website.
"Queen Elizabeth II has just passed away. The United Kingdom will forever bear the seal of she who embodied it for seventy years with unwavering strength and moral authority. France pays tribute to she who marked the History of her country, our continent and her century.," the article begins.
It charts her experience in World War II through to her coronation, whereupon "she gave her all to her Kingdom" and became a symbol of stability.
"She held a special status in France and a special place in the hearts of the French people. No foreign sovereign has climbed the stairs of the Élysée Palace more often than she, who honoured France with six state visits and met each of its presidents. For her, French was not a mere relic of Norman ancestry that persisted in so many customs, but an intimate, cherished language. The Queen of sixteen kingdoms loved France, which loved her back. This evening, the people of the United Kingdom and the Commonwealth are mourning their Queen. The people of France join them in their grief," the tribute says.
"She who stood with the giants of the twentieth century on the path of history has now left to join them. The French Republic and the people of France extend their long-standing friendship and deep sorrow to His Majesty the King, to the Royal Family, to His Majesty's Government and to the British people."
09.08.2022
22:19
African Union president offers 'heartfelt condolences'
Senegalese President Macky Sall, current chairperson of the African Union (AU), has paid tribute to the "memory of the illustrious deceased", Queen Elizabeth II.
"I have learned the sad news of the death of Her Majesty Queen Elizabeth II. I offer my heartfelt condolences to the British government and people. I salute the memory of the illustrious deceased, who had an exceptional career. May she rest in peace," he wrote in French on Twitter.
09.08.2022
22:14
Putin: Elizabeth 'rightly enjoyed love and respect of her subjects'
Russian President Vladimir Putin on Thursday paid tribute to the memory of Queen Elizabeth II and offered his condolences to her son, King Charles III.
"For many decades, Elizabeth II rightly enjoyed the love and respect of her subjects, as well as authority on the world stage," Putin said in a statement issued by the Kremlin. (AFP)
09.08.2022
22:09
Pope Francis says he's deeply saddened
Pope Francis said on Thursday he was deeply saddened by the death of Queen Elizabeth II and offer his condolences to her family and her successor, King Charles.
"I willingly join all who mourn her loss in praying for the late Queen's eternal rest, and in paying tribute to her life of unstinting service to the good of the Nation and the Commonwealth", Francis said in a telegram to King Charles. (Reuters)
09.08.2022
22:08
Brazil declares three days of mourning
Brazil's government decreed on Thursday three days of mourning in honor of Queen Elizabeth II following her death.
"Official mourning is declared throughout the country, for a period of three days, starting on the date of publication of this decree, as a sign of sorrow for the death of Her Majesty Queen Elizabeth II," the decree states. (Reuters)
09.08.2022
21:52
How is Europe reacting to Queen Elizabeth's death?
There have been messages from across the continent on Thursday night, as European leaders paid tribute to the historic duration of the Queen's reign and her history of service to the United Kingdom.
Read more from Lauren Chadwick and Matthew Holroyd here:
09.08.2022
21:46
Tributes to Queen Elizabeth: Thursday night in pictures