G7 nations pledge to impose price cap on Russian oil
Comments
By AFP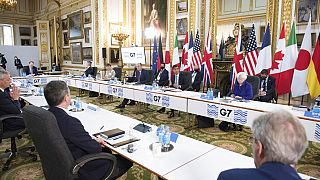 -
Copyright

Stefan Rousseau/AP
Finance ministers from the G7 have pledged to impose a cap on the price of Russian oil in a bid to limit the Kremlin's revenues and ability to fund its war in Ukraine, while also curtailing the war's impact on energy prices and inflation.
The ministers said they would impose the cap by barring insurance or shipping companies from helping Russia sell oil at prices above the set limit.
The decision follows discussions at the group's summit earlier this year and aims at solving one of the vexing problems with sanctions against Russia: Global oil prices have risen on fears of restricted supply, which has only fattened the Kremlin's revenues.
Meanwhile, skyrocketing energy prices have fed inflation that is squeezing consumers in rich and poor countries alike and threatens to push Europe into recession.
In a statement issued by Germany, which chairs the G-7 this year, the ministers said they "confirm our joint political intention to finalize and implement a comprehensive prohibition of services which enable maritime transportation of Russian-origin crude oil and petroleum products globally."
Providing those services "would only be allowed if the oil and petroleum products are purchased at or below a price determined by the broad coalition of countries adhering to and implementing the price cap," they added.
The statement did not give any proposed figure for a potential price cap and also did not specify when the G-7 aims to finalize the plan. It said that "we invite all countries to provide input on the price cap's design and to implement this important measure," calling for a "broad coalition in order to maximize effectiveness."