Cargo ship beached after colliding with vessel in bay of Gibraltar
Comments
By AP with Euronews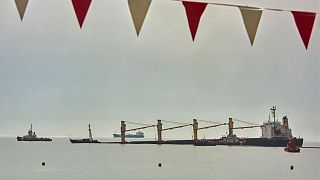 -
Copyright

AP Photo/Marcos Moreno
A large cargo ship has been beached after colliding with a gas tanker in the bay of Gibraltar, authorities said.
The 178-metre vessel hit the ship carrying liquefied natural gas (LNG) on Tuesday morning in the busy shipping port.
Gibraltar authorities said that the OS 35 cargo ship -- registered in Tuvalu -- had been beached to prevent it from sinking.
The vessel's starboard side has reportedly suffered "significant damage", including a gash below the waterline measuring approximately 10 metres by 4 metres in size.
No one was injured in the collision and there are no reports of any significant damage to the 289-metre-long LNG carrier.
The cargo vessel -- which was carrying steel bars to the Netherlands -- has been left resting on the seabed in 17 metres of water. Its 24-strong crew has been evacuated.
A small amount of heavy fuel has leaked from a bulk carrier ship, but the Captain of the Gibraltar Port said the leak is "fully under control." Officials also say that oil booms had been placed in the area to contain any possible fuel leakage and a second barrier will be deployed on Thursday.
A specialist marine salvage team from the Netherlands arrived in Gibraltar later on Tuesday to conduct a full on-site assessment and seal open vents in the ship's oil tank.
The Gibraltar government also stated they had set up a 200-meter exclusion zone around the stricken ship, while traffic in the port is suspended.
It was initially unclear why the two ships collided.