Ukraine war: European leaders praise Ukrainian independence as Zelenskyy says country 'reborn'
Comments
By Euronews with AP, AFP, Reuters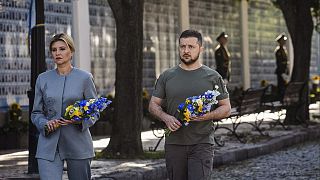 Copyright

AFP PHOTO / UKRANIAN PRESIDENTIAL PRESS SERVICE

-
European leaders have been sending messages of solidarity to Ukraine on the country's independence day.
It's 31 years since Ukraine broke free from Russian dominance under the former Soviet Union — and exactly six months since Vladimir Putin's forces rolled across the border in a full-scale invasion.
Anniversary events have been restricted amid security warnings of further Russian attacks.
Moscow forces on Wednesday launched a rocket attack on a train station in central Ukraine on the embattled country's Independence Day, killing at least 15 people and wounding about 50.
The lethal attack took place in Chaplyne, a town of about 3,500 people in the Dnipropetrovsk region, Zelenskyy told the UN Security Council via video. 
Ahead of the holiday, Kyiv authorities banned large gatherings in the capital through Thursday for fear of missile strikes.
Residents of the capital, which has been largely spared in recent months, woke up Wednesday to air raid sirens, but no immediate strikes followed. As the day wore on, Russian bombardments were reported in the country's east, west and central areas, with the most serious attack apparently at the train station.
Outgoing British Prime Minister Boris Johnson marked the holiday with a visit to Kyiv — his third since the war broke out — and other world leaders pledged unwavering support for Ukraine, locked in a battle that was widely expected to be a lightning conquest by Moscow but has turned into a grinding war of attrition. 
The US announced a major new military aid package totalling nearly $3 billion (€3.01bn) to help Ukrainian forces fight for years to come.
Review the developments around Ukraine's Independence Day in our blog below:
08.24.2022
18:52
Looking back at Euronews' Ukraine coverage
Euronews has not missed a development in the Ukraine war, covering the conflict's major events and their consequences comprehensively.
But we have also uncovered compelling stories and helped further the understanding of the war. 
To mark the six-month anniversary of the Russian invasion, here are some of our best original features. 
08.24.2022
21:38
Ukrainian league football match lasts more than four hours
The Ukrainian first division football match between Rukh Lviv and Metalist Kharkiv in Lviv on Wednesday ended up being 4 hours 27 minutes long instead of the usual 90 minutes because of several air alerts.
Interrupted three times by air raid sirens, the match, which started at 3 pm local time (2 pm CET), ended at 7:27 pm (6:27 pm CET). The two teams spent a total of 145 minutes in a shelter without any strike being detected in the area.
The city of Lviv, located in western Ukraine and home to many refugees since the beginning of the Russian invasion on 24 February, has suffered violent air attacks in recent months. 
Ukraine celebrated Independence Day, which commemorates its separation from the USSR in 1991, on Wednesday, six months to the day after the beginning of the conflict.
The Ukrainian league resumed on Tuesday behind closed doors, and it was Metalist that won 2-1 on Wednesday away from home. 
 
08.24.2022
20:22
Russian military struck train station in Ukraine's central region, Zelenskyy tells UN Security Council
Russia has launched missiles at a railroad station in Ukraine's Dnipropetrovsk region, killing at least 15 and wounding scores of others, Ukrainian President Volodymyr Zelenskyy told a Ukraine-focused meeting of the United Nations Security Council on Wednesday.
"I have just received information about a Russian missile strike on a railway station in the Dnipropetrovsk region ... At least 15 people were killed and about 50 injured," Zelenskyy said at the beginning of his speech.
"This is our life every day. This is how Russia got prepared for this UN session," Zelenskyy said over a video link.
In the meantime, local media have published photos from the village of Chaplyne, showing several train passenger cars and a train station destroyed in an apparent explosion.
Read more here:
08.24.2022
19:49
Russia to hold 'illegitimate' referendums in Kherson, Kharkiv regions, says White House spokesman
The United States government has said that Moscow will hold an "illegitimate" referendum in occupied Ukraine this week to try to justify annexing Ukrainian territory to Russia, White House spokesman John Kirby told reporters Wednesday.
"We have information that Russia continues to prepare mock referendums" in Kherson as well as Kharkiv, in addition to the separatist regions of Donetsk and Luhansk, said Kirby, the spokesman on national security issues.
"Any attempt to control sovereign territory of Ukraine will be considered illegitimate," Kirby added.
 
08.24.2022
19:22
Pope Francis will not meet with Russian Patriarch Kirill, says church official
When Pope Francis attends a gathering of religious leaders in Kazakhstan next month he will not meet the Russian Orthodox patriarch, who backs the war in Ukraine, a senior Russian Orthodox official said on Wednesday.
Francis, due to be in the capital Nur-Sultan from 13 to 15 September to attend the VII Congress of Leaders of World and Traditional Religions, has said in several recent interviews he hopes to meet with patriarch Kirill when in Kazakhstan. 
Dubbed the "Tobacco Metropolitan" for his alleged profiteering off of duty-free cigarettes in the 1990s, Patriarch Kirill has been under mounting pressure from religious leaders over his stance since the beginning of the invasion in late February. 
However, he has maintained his pro-war stance, blaming the invasion on "gay parades" and making unproven claims that Ukrainians have been "exterminating" Russian civilians in the Donbas.
08.24.2022
18:33
Ukraine rejects 'cynical' Independence Day message from Russia ally Lukashenko
Ukraine rebuked what it called a "cynical" Independence Day greeting from Belarusian leader Alexander Lukashenko on Wednesday, blasting Minsk for supporting Russia and assisting its invasion. 
In an unexpected message on his website to mark the 31st anniversary of Ukraine's independence from the Soviet Union, Lukashenko wished Ukrainians "peaceful skies, tolerance, courage, strength and success."
"I am convinced that today's disputes will not be able to destroy the centuries-old foundation of sincere good neighbourly relations between the peoples of the two countries," he added in the statement.
Wednesday's well wishes from Belarus prompted a sharp response from Kyiv. 
"Lukashenko truly believes the world does not notice his participation in crimes against Ukraine," wrote Senior Ukrainian presidential aide Mykhailo Podolyak on Twitter. 
"That is why he cynically wishes us a 'peaceful sky' while allowing deadly rockets to hit us," he added.
Belarus is a close ally of Russia and has allowed Moscow to use its territory to send thousands of troops into neighbouring Ukraine, as well as to launch missiles from its airspace.
Lukashenko has also vocally supported Russia's invasion of Ukraine, which borders southern Belarus.
The Belarussian leader has previously said that his country was "being dragged" into joining the war by Kyiv's actions. 
(Reuters)
08.24.2022
16:49
UN chief says 24 August represents 'sad, tragic milestone' as Zelenskyy addresses Security Council
UN secretary-general denounced before the Security Council the "absurd" war in Ukraine on Wednesday, six months to the day after the invasion of the country by Russia.
"Today marks a sad and tragic milestone, the six months since the invasion of Ukraine by Russia on 24 February," said Antonio Guterres, denouncing the consequences of this "absurd war far beyond Ukraine".
Ukraine's ambassador to the UN, Sergiy Kyslytsya, shared on Twitter that the Russian objection to President Volodymyr Zelenskyy addressing the Security Council on Wednesday was unanimously rejected.
"Russians are notoriously known for being world champions of shooting (themselves) in the foot," Kyslytsya commented.
08.24.2022
16:39
Russian troops arrest two employees of Ukraine's Zaporizhzhia nuclear plant
Two employees of Ukraine's Russian-occupied Zaporizhzhia nuclear plant have been detained for passing information to Ukrainian authorities, Russia's National Guard said on Wednesday.
The National Guard said it had prevented what it called "illegal actions" that threatened the plant's security and arrested the two staff, who it said had transmitted information to Ukrainian armed forces about the location of personnel and equipment on the site.
It said it also detained a third person who had violated the plant's access procedures, describing them in a statement as "an accomplice of the Armed Forces of Ukraine, who transmitted the coordinates of the movement of columns of Russian equipment."
There was no immediate comment from Ukraine.
The Zaporizhzhia nuclear plant, Europe's largest, was captured by Russian troops in March. It remains close to the frontline and has come under repeated fire in recent weeks, raising fears of a nuclear disaster. 
Ukraine denies shelling the site and says Russia is using it as a shield to enable it to launch attacks on the surrounding territory.
The United Nations has called for the area to be demilitarised, and its nuclear watchdog, the International Atomic Energy Agency, is seeking to gain access.
08.24.2022
15:42
Boris Johnson arrives in Kyiv
The UK's outgoing prime minister, Boris Johnson, has visited Kyiv for the third time since Russia's invasion.
It comes as Ukraine marks 31 years of independence from Russian dominance under the former Soviet Union. Today is also six months since Russian troops invaded Ukraine. 
"This is the third time Boris Johnson has been in Ukraine since the beginning of the Russian invasion. Not all countries are so lucky to have such a friend," Ukrainian President Volodymyr Zelenskyy said upon receiving him.