Ukraine war: What you need to know this weekend
Comments
By Euronews with AP, AFP, Reuters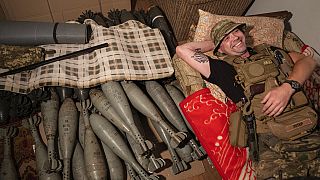 Ukraine advances into occupied Kherson region, says Zelenskyy
Ukrainian president Volodymyr Zelenskyy said Sunday his forces are advancing "step by step" into the occupied Kherson region.
Kherson city, an important economic centre and strategic port on the Black Sea, was captured by Russia early in the war.
On Saturday, UK defence officials reported heavy fighting near Kherson, adding that the Ukrainian advance was putting Russian supply lines west of the Dnipro "increasingly at risk."
A Ukrainian official claimed on Sunday the southern region will be 'definitely liberated' from Russia by the end of summer.
"We can say that the Kherson region will be definitely liberated by September, and all plans of the occupiers will fail," an adviser to the Kherson regional military administration, Sergiy Khlan, said in a statement.
Earlier this month, Ukraine's Deputy Prime Minster Iryna Vereshchuk urged Kherson residents to evacuate the city as soon as possible to avoid becoming trapped in the city during a counteroffensive in southern Ukraine.
Russia accused of attacking Odesa Port - jepodising days-old grain deal
A breakthrough deal to unblock Ukraine grain shipments is on a knife-edge following missile strikes on a key Ukrainian port.
Odesa Port was hit by alleged Russian missiles Saturday yesterday morning - just hours after Kyiv and Moscow signed an agreement to allow wheat and maize exports from Ukraine.
Ukrainian president Volodymyr Zelensky accused Russia of "barbarism", saying the attack showed how Moscow could not be trusted.
On Sunday, Moscow said Russian missiles had "destroyed military infrastructure" in Odesa, after previously not commenting on the attacks.
Kyiv -- which claimed Russia deliberately targetted the port in southern Ukraine -- vowed that grain exports would continue, despite the deal seemingly in tatters.
Ukraine and Russia signed a breakthrough agreement on Friday, designed to help relieve a global food crisis caused by blocked Black Sea grain exports.
Under the agreement, "safe corridors" will allow the movement of cargo ships in the Black Sea, which "both sides have committed not to attack," said a UN official who requested anonymity.
Read more:
Russian FM seeks to allay Africa's concerns on visit
Russia's foreign minister begun an African tour in Egypt on Sunday, as his country seeks to build non-Western alliances and push back against international criticsm over the Ukraine war.
In Cario, Lavrov met with Egypt's president and foreign minister, and he is expected to give an address to the Arab League later in today.
He will then travel to Ethiopia, Uganda, and the Democratic Republic of Congo, which have all recently had frictions with the US and its allies.
Lavrov will attempt to reassure concerns over disruptions to the shipments of Ukrainian grain and energy price rises, which are inflicting a heavy toll on Africa and the Middle East.
Egypt has significant strategic and economic ties with Russia, which is a key source of wheat, weaponry and -- until the war -- tourists for the north African country.
Those ties have caused angst with Western states, some of which petitioned the Egyptian government and the Arab League ahead of Lavrov's visit not to play into Russia's version of events in Ukraine, diplomats said.
In an article posted on the Russian Foreign Ministry's website before the trip, Lavrov rejected Western claims that Russia is causing the growing global food crisis, dismissing them as "another attempt to shift the blame to others."
Lithuania ends ban on sending goods to Kaliningrad
Lithuania has lifted its ban on bringing sanctioned goods in and out of Russia's Kaliningrad via railway.
Kaliningrad, on the Baltic Sea, is a Russian enclave sandwiched between Poland and Lithuania. Lots of goods are brought into the territory by train through Lithuania, as it is not connected to Russia.
Lithuania previously banned the transit of steel and other metals under EU sanctions last month, which enraged Russia and it threatened to respond.
But now Lithuanian Railways says it will resume transporting goods to the territory.
The European Union last week said the transit ban only affected road, not rail, transit, and Lithuania should permit Russia to ship concrete, wood and alcohol across EU territory to Kaliningrad.
Russia's Tass news agency cited a Kaliningrad government official as saying 60 wagons of cement would soon be shipped into the territory.
Russia annexed Kaliningrad after World War Two in 1945 and roughly one million people live there.
Read more:
North Korea accuses US of waging biological warfare in Ukraine
Pyongyang accused Washington of manufacturing biological weapons in Ukraine on Sunday, echoing accusations made by Russia in the past.
These allegations have been dismissed by both the US and United Nations.
Washington has "installed numerous biological laboratories in dozens of countries and regions, including Ukraine, in defiance of international treaties," North Korea's official KCNA news agency said.
The report referred to elements "detected" by Russia.
Pyongyang, an ally of Moscow, has also accused Washington of being "a vicious sponsor of biological terrorism throwing humanity into destruction" and of waging "bacterial warfare" during the Korean War in the 1950s.
Washington has denied these allegations.
Moscow accused Washington in March of funding research into the development of biological weapons in Ukraine. Both Washington and Kyiv deny the existence of laboratories intended to produce such weapons in Ukraine.
The US fears that these allegations indicate an intention by Moscow to soon use such weapons in Ukraine.
'A car with four punctured tires', Orban slams West's Ukraine war approach
Hungary's prime minister again lambasted the West's strategy toward the Russian invasion of Ukraine on Saturday.
In a speech at a summer school in Romanian Transylvania, Viktor Orban said sanctions against Russia were ineffective and called for talks between Washington and Moscow to end the war.
"We are sitting in a car with all four tires punctured," said the 59-year-old nationalist and ultra-conservative leader, claiming the conflict "would never have broken out if Donald Trump was still at the head of the United States".
He alleged the sanctions, now in their seventh round, "will not change the situation" and "the Ukrainians will not emerge victorious."
According to Josep Borrell, vice president of the European Commission, sanctions against Russia are "effective" and have "already hit Vladimir Putin and his accomplices hard," although he added that European publics must have patience as their effects take time to manifest.
According to Orban, "only Russian-American talks can end the conflict because Russia wants security guarantees" -- something, he claims, only Washington can provide.
Orban, who has previously positioned himself as an ally of the Russian president before the invasion of Ukraine, condemned the offensive but he maintains an ambiguous position.
Though he voted for the sanctions alongside his EU partners, his criticisms have become increasingly harsh and vocal against a backdrop of energy crisis and Hungary's deteriorating economic situation.
Multiple Ukrainian military personnel targetted in missile strike
Nine Ukrainian servicemen were injured and one soldier killed Saturday when a Russian missile hit railway infrastructure and a military airfield in central Ukraine, according to the governor of Kirovograd.
The lives of two other people were lost in the strike, both of whom were guards of an electrical substation, said Andriy Raikovych, head of the Kirovograd region.
Russian attacks on central Ukraine recently resumed following a lull due to Russia focusing on the eastern Donbas region, whose territory is now mainly controlled by Moscow's forces.
In a statement posted earlier on social media, Raikovych said 13 Russian cruise missiles launched from the sea fell near the town of Kropyvnytskyi in the Kirovograd region.
"Infrastructure facilities [located] outside the regional centre were targeted, in particular the military airfield in Kanatove and a facility linked to Ukrainian railways," he said.
Before the Russian invasion, the city of Kropyvnytskyi was home to some 220,000 people. It is located about 300 km south of Kyiv, the Ukrainian capital.
Donetsk and Luhansk separatist territories ban Google
The authorities in Ukraine's two Moscow-backed separatist territories have announced that they have blocked the world's biggest internet search engine, Google, accusing it of "promoting" violence against Russians.
Google "promotes terrorism and violence against all Russians, especially the population of the Donbas (...) We have decided to block Google on the territory" of the Donetsk region, separatist leader Denis Pushilin said in a statement Friday.
On Thursday, the leader of the neighbouring separatist region of Lugansk, Leonid Pasechnik, announced that he had taken the same step.
The Kremlin-supported and armed separatist authorities in eastern Ukraine, like Russia, have been seeking to tighten their control over information since Moscow launched its offensive against Ukraine in late February.
In Russia, new laws have been passed that allow courts to dole out heavy prison sentences to those who publicise what the authorities deem to be "false information" about the army or Russia's invasion of Ukraine, demanding it to be labelled as "special military operation".
Russia has blocked major social networks such as Facebook, Twitter and Instagram. The country, which has its own search engine, Yandex, has been trying for years to develop a sovereign internet, like China.