Ukraine war: Seven key developments from the conflict this weekend
Comments
By Euronews with AP, Reuters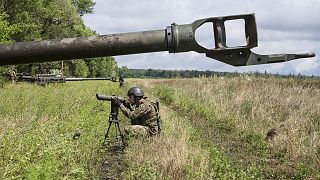 Copyright

AP Photo/Evgeniy Maloletka

-
1. Russia 'clearly' preparing for next stage of offensive in Ukraine, military officials claim
Russia is preparing for the next stage of its offensive in Ukraine, a Ukrainian military official said, after the Kremlin said its forces would step up its attacks in "all operational areas".
"It is not only missile strikes from the air and sea," Vadym Skibitskyi, a spokesman for Ukrainian military intelligence, said on Saturday.
"We can see shelling along the entire line of contact, along the entire front line. There is active use of tactical aviation and attack helicopters."
"There is indeed a certain activation of the enemy along the entire front line... Clearly preparations are now underway for the next stage of the offensive," Skibitskyi said.
The Ukrainian military said Russia appeared to be regrouping units for an offensive towards Sloviansk, a symbolically important city held by Ukraine in the eastern region of Donetsk.
Read more here:
2. Lisa, four-year-old victim of Vinnytsia missile attack, buried
More than 100 mourners came together on Sunday to pay their respects to a 4-year-old girl killed in a missile attack in the Ukrainian city of Vinnytsia.
The 4-year-old, named Liza, was killed when missiles struck a residental area of Vinnytsia on Thursday, killing 24 civilians.
A video of Liza taken by her mother, Iryna Dmytrieva, just moments before the attack was widely shared. They had been on their way to see the child's speech therapist.
Speaking at the funeral service in the city's central Transfiguration Cathedral, the priest Vitalii Holoskevych said Liza "stands and looks near God."
He had harsh words for those who were responsible for the missile attack, saying they "serve the devil".
"Eternal hell awaits them because there is no forgiveness for them. And I think they are not capable of repenting before God," he said.
Liza's mother is still in intensive care after suffering injuried in the attack which killed her daughter. While she is conscious, she is still in a serious condition.
The doctors were keeping her in "information blackout" due to concerns that the news of her daughter's death might kill her.
3. White House claims Iran showcased its drones to Kremlin officials
The White House says Russian officials have visited an airfield in central Iran at least twice in recent weeks to view weapons-capable drones it is looking to acquire for use in its ongoing war in Ukraine.
The administration released the intelligence as President Joe Biden gets set to meet on Saturday with leaders of six Arab Gulf countries plus Egypt, Jordan and Iraq for a regional summit. 
Iran showcased the drones to Russian officials at Kashan Airfield on 8 June and 15 July, according to the White House.
The administration also released satellite imagery of Shahed-191 and Shahed-129 drones being displayed and in flight on the airfield, while a Russian delegation transport plane was on the ground.
Read more here:
4. Russian rockets hit Ukraine's north, killing at least three civilians
At least three civilians were killed and three more were injured in a Russian rocket strike on the northern Ukrainian city of Chuhuiv in the early hours on Saturday, a regional police chief said.
Serhiy Bolvinov, the deputy head of Kharkiv's regional police force, said that the rockets were likely fired from Russian territory. Chuhuiv lies some 120 kilometres from the border.
He said 4 rockets "presumably fired from around (the Russian city of) Belgorod at night" had hit a residential building, school and administrative block.
"The bodies of three people were found under the rubble," he added."Three more were injured. The victims are civilians."
Elsewhere in the town, rockets also landed at an elementary school and a building materials store. No victims were reported there.
Read more here:
5. The Kremlin orders its troops to 'step up operations' in Ukraine
Russia has ordered its forces in Ukraine to step up operations, its defence ministry said on Saturday, as rockets and missiles pounded the country in the latest of a series of bombardments that have killed dozens of people in recent days.
Russia's defence ministry said in a statement on its website that Defence Minister Sergei Shoigu had ordered military units to step up their operations to prevent strikes on eastern Ukraine and other territories controlled by Moscow, according to Reuters.
It said Shoigu "gave the necessary instructions to further increase the actions of groups in all operational areas in order to exclude the possibility of the Kyiv regime launching massive rocket and artillery strikes on civilian infrastructure and residents of settlements in the Donbas and other regions".
The ministry said Shoigu had issued his order after listening to reports at a command centre from generals leading the "South" and "Centre" command groups of Russian forces operating in Ukraine, as well as other commanders.
6. Western dominance over as China rises to superpower status, says Former UK PM
The Ukraine war shows that the West's dominance is coming to an end as China rises to superpower status in partnership with Russia at one of the most significant inflexion points in centuries, former UK Prime Minister Tony Blair said.
The world, Blair said, was at a turning point in history comparable with the end of World War Two or the collapse of the Soviet Union: but this time, the West is clearly not in the ascendant.
"The biggest geo-political change of this century will come from China not Russia," Blair said in a lecture entitled "After Ukraine, What Lessons Now for Western Leadership?" at a forum supporting the alliance between the United States and Europe near London.
The war in Ukraine, Blair said, had clarified that the West could not rely on China "to behave in the way we would consider rational".
China in 1979 had an economy that was smaller than Italy's, but after opening to foreign investment and introducing market reforms, it has become the world's second-largest economy.
7. IMF chief warns of 'exceptionally uncertain' times turning worse at G20 meeting
IMF chief Kristalina Georgieva on Saturday warned officials from the Group of 20 major economies to take urgent action to combat inflation, warning that the "exceptionally uncertain" global economic outlook could turn worse if higher prices persisted.
Georgieva, speaking at a G20 finance officials meeting in Indonesia, said Russia's intensifying war in Ukraine had increased pressure on commodity and energy prices, and global financial conditions were tightening more than expected.
At the same time, pandemic-related disruptions and renewed supply chain bottlenecks continued to weigh on economic activity.
Pressure was mounting on heavily-indebted countries, and the debt situation was "deteriorating fast," she said, according to a text of her remarks.