Ukraine war: Kyiv troops reach Russian border near Kharkiv
Comments
By Euronews with AP, AFP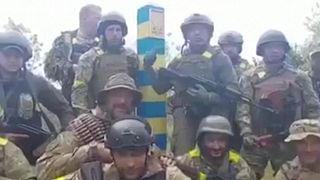 -
As the new week begins, the battle for eastern Ukraine continues to be both bloody and uncertain, with Russian forces focusing their attacks on the Donetsk region in the east.
Meanwhile, Sweden and Finland's moves to join NATO have raised tensions with Russia, and negotiations over a new set of EU sanctions continue to hit roadblocks.
See our blog below for a summary of Monday's key developments or watch our live coverage in the player above.
05.16.2022
06:30
Ukrainian troops have regained control of part of the border with Russia near Kharkiv, pushing Russian forces back into their own country, according to the Ukrainian Ministry of Defence. 

Belarusian special operations forces have been deployed along the country's border with Ukraine.

The Russian rouble climbed towards a near five-year high against the euro on Monday, supported by continuing restrictions on currency trading.

Sweden is applying for NATO membership. Prime Minister Magdalena Andersson announced the matter at a joint press conference with opposition leader Ulf Kristersson.

The US could ratify Finland's NATO membership by August, according to Republican Senator Mitch McConnell.

Sweden and Finland are making a 'serious error' in NATO move, says Russian deputy foreign minister.

Russian forces may have run out of combat-ready reservists, says US think tank.

McDonald's has begun the process of selling its Russian operations.

French carmaker Renault says it is selling its Russian branch to Moscow City and its stake in Russian company Avtovaz to a local state-owned institute.

NATO's Secretary General Jens Stoltenberg said on Sunday that Ukraine "can win" its war with Russia, and that NATO must continue to offer military support to Kyiv.
05.16.2022
22:10
Erdogan objects to Finland and Sweden joining NATO due to stance on Kurdish militants
Turkey's President Recep Tayyip Erdogan on Monday ratcheted up his objection to Sweden and Finland joining NATO.
Erdogan accused the countries of failing to take a clear stance against Kurdish militants and of imposing military sanctions on Turkey.
"Neither country has an open, clear stance against terrorist organisations," Erdogan said at a joint news conference with the visiting Algerian president.
"We cannot say 'yes' to those who impose sanctions on Turkey, on joining NATO which is a security organization."
The Turkish leader described Sweden as an "incubation centre for terrorist organizations," claiming some members of its parliament supported the outlawed Kurdistan Workers' Party or PKK. The group has waged an insurgency against Turkey since 1984, costing tens of thousands of lives.
Erdogan said Swedish and Finnish officials — who are expected in Turkey next week — should not bother to come if they hope to convince Ankara into relaxing its objections to their membership.
05.16.2022
20:59
Sweden and Finland should become NATO  members without delay, UK foreign secretary says
UK Foreign Secretary Liz Truss said in a statement on Monday that Sweden and Finland should be integrated into the North Atlantic military alliance at the earliest possible time and that the two countries joining will strengthen Europe's collective security.
"The UK strongly supports applications for NATO membership from Finland and Sweden," Truss said. "They should be integrated into the Alliance as soon as possible."
She also stated that the UK "looks forward to working with them as new NATO Allies and stand ready to offer them our every assistance during the accession process."
05.16.2022
20:37
NATO exercises in the Baltics underway
The military alliance commenced on Monday its biggest-ever exercises in Estonia, called "Hedgehog" and scheduled to last until 3 June.
The drills, which were planned before Russia's invasion of Ukraine on 24 February, involve 10 countries and about 15,000 troops.
The exercise takes place about 60 kilometres from the border with Russia, and it is intended to simulate an attack by Moscow on Estonia.
"Hedgehog" comes at a time of heightened tensions in the region, after both Finland and Sweden declared they will apply for NATO membership despite opposition and warnings of possible retaliation from the Kremlin.
05.16.2022
19:09
No Hungarian sanctions on Russian energy exports, PM Orban says
As European Union leaders continue to push for an embargo on Russian oil, Hungary's prime minister insisted Monday that his country would not support any sanctions that negatively affect Hungary's energy security.
In a speech in Hungary's parliament, nationalist leader Viktor Orban said Hungary would not block EU sanctions as long as they "don't go beyond the red line of Hungary's economic protection. That is, as long as they don't jeopardize Hungary's energy security."
Orban said that EU leaders are "convinced that European sanctions can force Russia to its knees … but no matter how hard I try, I can't remember any continental blockade ever being successful."
Orban's government has remained firm in its rejection of sanctions on Russian energy exports.
Earlier EU offers to Hungary to extend the deadline for dropping Russian oil from its energy mix have not swayed the government in Budapest.
05.16.2022
18:55
Ten killed in eastern Ukraine city by Russian shelling
At least 10 people have been killed in Russian shelling on the eastern Ukrainian city of Severodonetsk, which is virtually surrounded by Moscow forces, the region's governor said on Monday.
"At least 10 people were killed. It is currently extremely difficult to verify the situation on the ground due to the new shelling," Sergei Gaidai said on Telegram, calling on residents who have not fled to stay safe.
In an earlier message on Monday, Gaidai warned of artillery strikes on Severodonetsk and its nearby twin town of Lyssychank, which caused fires in residential areas.
"Severodonetsk was hit by very powerful strikes," he added, accompanying his message with photographs of the destruction.
The mayor of Severodonetsk, Oleksandre Striouk, had announced on 6 May that the city was "almost surrounded" by Moscow forces and pro-Russian separatists from Donbass, who are trying to take full control of the region.
He said 15,000 of the city's pre-war population of 100,000 were still there.
Severodonetsk, one of the few major cities in Donbass still under Ukrainian control, as well as Lyssychank, are located about 80 km east of Kramatorsk, which has become the administrative centre of Ukraine's Donbass since the separatists seized the eastern part of the large coal basin in 2014.
(AFP)
05.16.2022
17:54
Nordic nations promise military support for Sweden and Finland during NATO bid
Norway, Denmark and Iceland -- all members of the NATO military alliance -- have promised defence support for their Nordic neighbours Sweden and Finland during the NATO membership process. 
The countries are promising to "assist with all means necessary" if either Sweden or Finland "are exposed to an attack before they formally become members of NATO," Norwegian Prime Minister Jonas Gahr Støre said on Monday. 
In a joint statement of support the Prime Ministers of Denmark, Iceland and Norway said they welcome the decisions of Finland and Sweden to apply for NATO membership, and emphasised that as Nordic countries they already share the same common values and principles as NATO. 
"We will further strengthen our Nordic defense co-operation. Our military forces work well together, and have trained together for many years. We greatly appreciate the significant contributions that Finland and Sweden have already made as partner countries in NATO", said Støre.
(Euronews) 
05.16.2022
15:25
Sweden joins Finland in announcing it wants to become a member of NATO
Sweden has announced it wants to become a member of NATO, the prime minister and the main opposition leader announced on Monday.
Prime Minister Magdalena Andersson said the move marked a new "era" for the Scandinavian country.
"The government has decided to inform NATO of Sweden's willingness to become a member of the alliance," she told a news conference with opposition leader Ulf Kristersson. 
Read more here:
05.16.2022
15:22
Truce at Azovstal, wounded Ukrainian soldiers being evacuated, Russian defence ministry claims
The Russian defence ministry said on Monday that a truce had been called at the Azovstal steel mill, the last bastion of Ukrainian resistance in the city of Mariupol, to evacuate wounded Ukrainians.
"[Weapons] silence is currently in force and a humanitarian corridor was opened through which wounded Ukrainian soldiers are transferred to medical facilities in Novoazovsk," the ministry claimed in a statement.
Novoazovsk is a Ukrainian town near the border with Russia that is controlled by Moscow and pro-Moscow forces.
The Russian ministry did not clarify whether the wounded would be considered prisoners of war.
There was also no immediate confirmation from the Ukrainian side. It was not clear how many wounded Ukrainians might leave the site and if any had so far done so.
05.16.2022
14:45
Russia would react to any military deployments in Sweden or Finland, says Putin 
Russian President Vladimir Putin has reacted to Finland and Sweden's proposed membership of NATO, saying on Monday that it did not constitute a "threat" in itself, but that Russia would react to any military deployments.
Such "enlargement of NATO does not constitute an immediate threat (...) but the deployment of military infrastructures on the territories of these countries will, of course, lead to a response", he told a summit of the leaders of the Collective Security Treaty Organisation (CSTO) in Moscow.