Ukraine war: Russia is gearing up for an offensive in east, Pentagon says
Comments
By Euronews with AP, AFP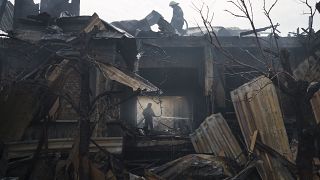 -
The war is now in its seventh week, with Russian forces now concentrating their offensive on eastern Ukraine, after retreating from the capital Kyiv.
Follow Monday's events as they unfold in our blog below, or watch television coverage in the video player, above.
04.11.2022
06:43
Monday's key points:
More than 10,000 civilians have been killed in Mariupol, mayor says

Austrian Chancellor Karl Nehammer said his discussion with Putin was 'difficult' on Monday after he became the first EU leader to visit Moscow since the start of the war. 

In a video address, Zelenskyy says Ukrainians still want peace, despite the atrocities of war they have witnessed. 
Ukraine's economy will shrink by 45.1% this year because of Russia's invasion, the World Bank said.

The US Pentagon said Russia is gearing up for an offensive in the eastern Donbas region, moving troops and material toward that area.

Britain's Ministry of Defence says Russia needs to boost troop numbers with extra recruitment, due to mounting losses in the war. 

Russia has appointed a new Ukraine war commander, General Alexander Dvornikov, a veteran of the Russian campaign in Syria.
04.11.2022
23:00
Eight people die in shelling in Kharkiv including a child, local official says
Eight people have died in shelling in Kharkiv including a 13-year-old child, according to Kharkiv governor Oleh Synyehubov.

He said that two children aged 4 and 9 were among 19 people who were injured.
04.11.2022
22:30
Vereshchuk, deputy PM of Ukraine, says 4,354 people were evacuated on Monday in the east
Iryna Vereshchuk, Ukraine's deputy prime minister, said that 4,354 people were evacuated on Monday.

Around 3,854 people arrived in Zaporizhzhia in their own transport. There were 556 people who arrived from the besieged southern port city of Mariupol.
04.11.2022
22:02
Russian anti-war protester becomes correspondent for German media
The Russian woman who interrupted a state broadcast with a no-war poster has become a correspondent in Ukraine and Russia for the major German daily Die Welt, the media announced on Monday.
She will write for the newspaper and contribute regularly to its television news channel.

Marina Ovsyannikova "had the courage, at a decisive moment, to confront viewers in Russia with an undiluted picture of reality," explained Ulf Poschardt, editor-in-chief of the Welt group, in a press release.

"She thus defended the most important journalistic virtues, despite the threat of state repression," the boss of the conservative daily newspaper added.

Some journalists criticised her appointment, stating that other independent journalists had fled Russia and pointed out she had worked in Russian propaganda for years.

(AFP)
04.11.2022
20:50
More than 10,000 civilians have been killed in Mariupol, mayor says
More than 10,000 civilians have died in the southeastern port city of Mariupol since the war began in late February, the city's mayor told The Associated Press.
Mayor Vadym Boychenko said corpses were "carpeted through the streets of our city" and that the death toll could be more than 20,000.
Boychenko also repeated claims that Russian forces have brought mobile crematoria to the city to dispose of the bodies and accused Russian forces of refusing to allow humanitarian convoys into the city in an attempt to disguise the carnage.
The mayor had previously claimed 5,000 dead. He explained that these data were on March 21, but "thousands more people were lying on the streets, it was just impossible for us to collect them."

(AP)
04.11.2022
20:48
French bank ends business in Russia
Société Génerale has announced it is ending its Russian activities -- making it the first big Western bank to announce it's quitting Russia.
SocGen is also selling its entire stake in Rosbank to a company linked to a Russian oligarch, costing the French bank some 3 billion euros.
Rosbank is a heavyweight in the Russian banking sector, and Société Génerale was the majority shareholder.
"After several weeks of intensive work," the bank said in a statement, it had signed an agreement with Russian investment fund Interros Capital to sell all of its stake in Rosbank as well as its insurance subsidiaries in Russia.
Interros is one of the largest funds in the country, which holds assets in heavy industry and metallurgy.

(AP)
04.11.2022
20:35
France declares six Russian diplomats 'persona non grata'
France's foreign affairs ministry said after an intelligence investigation, six Russian diplomats would be expelled from the country.

The ministry said in a statement that the diplomats' activities were "revealed to be contrary to our national interest."

"In the absence of the Russian ambassador, the deputy was summoned to the Quai d'Orsay this evening," France's foreign affairs ministry added.
04.11.2022
19:53
Italy to import more natural gas from Algeria
Italian PM Mario Draghi secured a deal Monday for more natural gas imports across a Mediterranean pipeline from Algeria, in the latest push by a European Union nation to reduce dependence on Russian energy following its invasion of Ukraine.
Draghi told reporters in the Algerian capital after meeting with President Abdelmadjid Tebboune that an agreement to intensify bilateral cooperation in the energy sector along with the deal to export more gas to Italy "are a significant response to the strategic goal" of quickly replacing Russian energy.
Russia is Italy's biggest supplier of natural gas, representing 40% of total imports, followed by Algeria, which provides some 21 billion cubic meters of gas via the Trans-Mediterranean pipeline.
The new deal between Italian energy company ENI and Algeria's Sonatrach would add up to 9 billion cubic meters of gas from Algeria, just eclipsing Russia's current 29 billion cubic meters a year. The increased flows will start in the fall, ENI said in a statement.

(AP)
04.11.2022
19:24
Russia is gearing up for an attack in the Donbas, US Pentagon says
The Pentagon's latest assessment is that Russia is gearing up for, but has not yet begun, an intensified offensive in the Donbas.
A senior U.S. defence official said the Russians are moving more troops and material toward that area and are focusing many of their missile strikes there. The official spoke on condition of anonymity to discuss internal US military assessments.
The official said a lengthy convoy of vehicles that is headed south toward the eastern city of Izyum contains artillery as well as aviation and infantry support, plus battlefield command-and-control elements and other materials.
The official said the convoy appeared to originate from the Belgorod and Valuyki areas in Russia, which are shaping up as key staging and marshalling grounds for the Russian buildup in the Donbas.
The official said the Russians also are bolstering their presence in the Donbas by deploying in recent days more artillery southwest of the city of Donetsk.

(AP)
04.11.2022
18:41
The arsenal being sent to Ukraine to fight Russia - and the weapons Kyiv is still asking for
Ukraine has some cutting-edge military hardware at its disposal in its fight against Russia's invading forces.
That's largely thanks to deliveries of weaponry from allies looking to help the country bolster its defence.
From anti-aircraft MANPADS, to anti-tank missiles, to a drone so beloved by Ukrainian forces they are singing about it, countries are continuing to send critical equipment to the war-torn country.

Read the full story here.