Ukraine war: Kyiv would only fall 'if carpet bombed' by Russia, Zelenskyy says
Comments
By Euronews with AP, AFP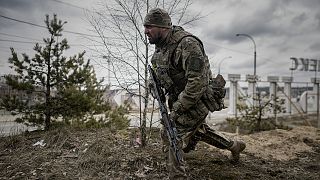 -
Speaking at a news conference Saturday, Ukrainian President Volodymyr Zelenskyy said Russia would have to carpet-bomb the Ukrainian capital and kill its residents to take the city.
Meanwhile, the Russian troops are attempting to encircle Kyiv further, fighting against heavy resistance in the west and the north of the city.
And after twelve days of siege, the strategic southern Ukrainian port city of Mariupol is without water, gas, electricity or communications, and people were seen fighting for food in recent days. The situation is "almost desperate", warned Médecins Sans Frontières (MSF).
The number of civilians killed during the siege of Mariupol reached 1,582, and some of the casualties had to be buried in mass graves. Local authorities fear that the actual number might be much higher.
03.12.2022
09:24
Saturday's main developments:
The worst of the fighting overnight took place in Irpin, Mykolaiv and Sumy, according to the General Staff of the Ukrainian Armed Forces.
Gas, water and electricity shortages have heavily affected the residents of Mariupol and Chernihiv, among other cities.
Russian troops have shelled two humanitarian corridors in Kyiv and Donetsk, regional heads said in separate statements on Saturday.
Sanctions against Moscow might cause the International Space Station to crash, the head of the Russian space agency said.
"Thousands" of fighters from the Middle East are expected to come fight on the Russian side against Ukrainian forces, DNR head stated.
The UN Security Council will meet on Friday to discuss Russia's unsubstantiated claims that the US is conducting "military biological activities" in Ukraine. The White House has called the claim "preposterous". Zelenskyy says it shows the Kremlin is planning to use such weapons itself in Ukraine.
More than 2.5 million people have now fled Ukraine since the Russian invasion began, say the latest figures from the UN migration agency and refugee agency.
Read an overview of the main events on Friday here.
03.12.2022
19:07
Another Aeroflot administrator said to have left Russia
A deputy head of Russia's flagship carrier Aeroflot says he has resigned and left the country.
Andrei Panov, Aeroflot's deputy director in charge of marketing, wrote on Facebook on Saturday that "the old life is over".
Earlier this month, Russian news reports claimed that Aeroflot's CEO Mikhail Poluboyarinov also left the country. Aeroflot has denied that.
Aeroflot has been badly hit by Western sanctions against Russia over its war in Ukraine. Western allies have barred Aeroflot planes from their skies and banned the supply of spare parts, among other measures taken against the airline.
03.12.2022
17:29
Zelenskyy: Russia can take Kyiv only if it 'carpet bombs the history of Europe'
Ukraine's President Volodymyr Zelenskyy says about 1,300 Ukrainian soldiers have been killed in fighting since the start of the Russian invasion.
Speaking at a news conference Saturday, Zelenskyy said it would take Russia to carpet-bomb the Ukrainian capital and kill its residents to take the city.
He added that "if that is their goal, let them come."
Zelenskyy said that "if they carry out carpet bombings and wipe off the historic memory of the entire region, the history of Kyivan Rus', the history of Europe, they could enter Kyiv."
03.12.2022
16:13
Thousands of Ukrainians, Russians stranded in Thailand
Officials say thousands of Ukrainian and Russian tourists are stranded in Thailand's beach resorts.
While Ukrainians cannot fly back home because of the war in their country, many Russians have ended up stranded and unable to pay their bills or return home because of sanctions and cancelled flights.
Yuthasak Supasorn, governor of the Tourism Authority of Thailand, told The Associated Press that about 1,000 Ukrainian tourists and 6,500 Russians are stuck in Phuket, Surat Thani, Krabi and Pattaya, the four provinces that are popular seaside resort destinations.
03.12.2022
14:40
Russian forces capture eastern outskirts of Mariupol as Zelenskyy asks Moscow to uphold ceasefire agreements
Ukraine's military says Russian forces have captured the eastern outskirts of the besieged city of Mariupol.
In a Facebook update Saturday, the military said the capture of Mariupol and Severodonetsk in the east was a priority for Russian forces. Mariupol has been under siege for over a week, with no electricity, gas or water. 
Repeated efforts to evacuate people from the city of 430,000 have fallen apart as humanitarian convoys came under shelling.
Ukrainian President Volodymyr Zelenskyy urged Moscow to uphold the ceasefire agreements in an address on Saturday, blaming it for the failure of the previous attempts.
03.12.2022
14:10
'Thousands' of Middle Eastern fighters to join Russia in Ukraine invasion
The Russia-backed head of the separatist region in eastern Ukraine says he expects thousands of fighters from the Middle East to come to fight the Ukrainian forces.
Denis Pushilin, the head of the separatist government in the Donetsk region, said in remarks broadcast on Russian state television Saturday that "many thousands" of volunteers from the Middle East could shortly join the rebels and fight "shoulder-to-shoulder" against the Ukrainian army.
Pushilin's remarks follow Russian Defense Minister Sergei Shoigu's comment on Friday that Russian authorities have received requests from over 16,000 people from the Middle East who are eager to join the Russian military action in Ukraine. He added that many of those volunteers have previously fought with Russia against the so-called Islamic State group.
Russia has waged military action in Syria since September 2015, helping President Bashar Assad's government reclaim control over most of the country in a devastating civil war. Shoigu's statement followed Ukraine's call on volunteers from foreign countries to help fight the Russian troops.
03.12.2022
12:37
MSF: Civilians in Mariupol dying for lack of medical supplies
Médecins Sans Frontières (MSF) said some residents of Mariupol are dying for lack of medication, while others killed in the fighting are being buried in makeshift graves by their neighbours.
The group said the city has been without drinking water or medicine for more than a week now. It said people are resorting to using water from the ground or tapping heating pipes, then boiling it on makeshift fires.
MSF says food is scarce, and the lack of cellphone or internet connectivity in Mariupol means only residents with access to a portable radio have information on what is happening beyond their immediate neighbourhood.
One MSF staff member described seeing people who have died because of lack of medication, adding that "there are a lot of such people inside Mariupol".
The aid worker said that there are "many people who were killed and injured, and they're just lying on the ground. Neighbours [are] just digging a hole in the ground and putting their bodies inside."
03.12.2022
12:32
Macron and Scholz speak with Putin about war in Ukraine
French President Emmanuel Macron and German Chancellor Olaf Scholz spoke again on Saturday with President Vladimir Putin to discuss the Russian invasion of Ukraine, a day after the Versailles summit, the Elysee Palace said.
The three leaders had already had a phone conversation on Thursday during which France and Germany had "demanded from Russia an immediate ceasefire".
Since their meeting on 7 February in the Kremlin, Emmanuel Macron has had nine phone conversations with Putin.
03.12.2022
12:08
Russian army continues to shell 'humanitarian corridors', local authorities claim
The governors of the regions of Kyiv and Donetsk said in separate statements on Saturday Russian attacks were continuing in areas where Ukraine was trying to evacuate people and bring aid through humanitarian corridors.
"Humanitarian cargo is moving towards Mariupol, we will inform you how it develops [...] The situation is complicated, there is constant shelling," Donetsk governor Pavlo Kyrylenko told local media.
03.12.2022
11:52
79 children killed since the beginning of war, authorities say
At least 79 children have lost their lives in Ukraine since the beginning of the Russian invasion, while another 100 have been wounded, the Prosecutor General's Office said on Saturday.
Most victims were from Kyiv, Kharkiv, Donetsk, Sumy, Kherson and Zhytomyr regions. The number is not final because the ongoing hostilities are preventing investigators from reaching some of the scenes, the prosecutor's office stated.
More than 280 educational institutions have been severely damaged across the country, with nine completely destroyed, local media reported.