Romania faces political deadlock after prime minister ousted in no confidence vote
Comments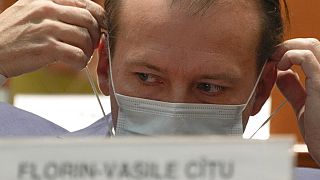 Romania faced political deadlock on Wednesday following a vote of no confidence in Prime Minister Florin Citu and mounting public anger against the country's political class.
President Klaus Iohannis, a Citu ally and member of the National Liberal Party (PNL), is under pressure to appoint a replacement prime minister from the rival Social Democratic Party (PSD) and has 45 days to find a candidate that will be accepted by parliament.
The PNL's former coalition partners USR Plus -- which rebranded as simply USR this week -- has called for a candidate from the PSD to fill Citu's role.
The PSD won 29% of the vote in the 2020 elections but Iohannis chose to appoint Citu, whose PNL slumped to just 25% of the vote.
"Florin Cîtu has been dismissed for all the reforms that have been blocked in recent months, for the failure of the vaccination campaign, for the use of money and public functions to buy votes at the PNL congress," USR said in a statement published on its Facebook page.
If, as expected, Iohannis defies the calls and instead appoints a PNL candidate -- or even Citu, again - -parliament could reject it and demand another. If Iohannis's second prime minister pick is rejected, Romania will head to snap elections for the first time its modern history.
As the machinations continue in parliament, there is growing anger on the streets over corruption and the mishandling of Romania's COVID-19 outbreak. The country has Europe's second-worst vaccination record and is seeing a surge in cases and deaths as well as three deadly hospital fires in just a year.
The imposition of new lockdown restrictions on October 2 led to street protests and calls for the fall of the government. The demonstrations echoed the massive protests that shook Romania in 2016 and led to the collapse of the government over a bill that would have shielded politicians from corruption charges.
Analysts say that given the dire economic situation in Romania and anger over COVID-19, both the PNL and the PSD -- and even the USR -- will want to avoid snap elections lest they are punished by voters.
In 2020, a far-right party -- the Alliance for the Union of Romanians (AUR) -- capitalised on growing public anger to seize 9% of the national vote and would likely increase that share in new elections.
"Neither PSD nor PNL, and not even USR wishes to put the shoulder into campaigning during an already problematic fourth pandemic wave," said Radu Magdin, a political analyst.
Magdin suggested that more likely scenarios could be a right-wing coalition under an alternate leader from the PNL with key positions given to USR, or a PNL-PSD coalition with a PSD prime minister.
There could even be an agreement that Citu return as prime minister so the government can function until the next parliamentary session in spring 2021 and avoid new elections, although this is unlikely as the USR has made Citu's departure a key condition of any coalition with the PNL.
PSD chairman Marcel Ciolacu, meanwhile, has called for the appointment of a technocrat government to govern until snap elections can be held.
The only political force in Romania's parliament that would favour new elections are the radical AUR, which capitalised on widespread anger and discontent with the political class in the 2020 election.
It currently has 40 seats in parliament and George Simion, its president of the AUR, told Euronews on Monday that he would expect a far bigger share of the vote if new elections were held.
The AUR leader, George Simion, told Euronews on Monday that he would not consider a coalition with either of Romania's established parties, the PNL or the PSD. He has called for a national unity government or early elections.
Modelled on Poland's Law and Justice (PiS), the AUR is a nationalist party that favours a union with Moldova, opposes European green energy and climate goals and is against increasing LGBT rights.
The final political actor in Romania's unfolding political tragedy is former prime minister Ludovic Orban, who stood down after PNL's poor showing in the 2020 elections.
Orban has been involved in a public spat with Citu over the past six months, losing the PNL leadership race to his rival but still retaining significant support from within the party. This support, however, does not extend to Iohannis, who, sources say, will not countenance bringing him back as prime minister.