Dozens of California fires threaten thousands of homes and whole towns
Comments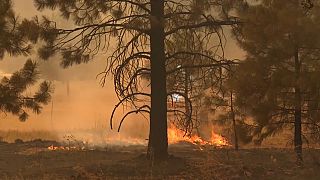 The US Forest Service said on Friday it's operating in crisis mode, fully deploying firefighters and maxing out its support system as wildfires continue to break out across the US west, threatening thousands of homes and entire towns.
The roughly 21,000 federal firefighters working on the ground is more than double the number of firefighters sent to contain forest fires at this time a year ago, and the agency is facing "critical resources limitations,'' said Anthony Scardina, a deputy forester for the agency's Pacific Southwest region.
An estimated 6,170 firefighters alone are battling the Dixie Fire in Northern California, the largest of 100 large fires burning in 14 states, with dozens more burning in western Canada.
The fire began a month ago and has destroyed more than 1,000 homes, businesses and other structures, much of it in the small town of Greenville in the northern Sierra Nevada.
The fire had ravaged an area larger than the city of London, and continued to threaten more than a dozen rural and forest communities.
Containment lines for the fire held overnight, but it was just 31 percent surrounded.
Gusty and erratic winds were threatening to spread the fire to Westwood, a lumber town of 1,700. Lightning could spark new blazes even as crews try to surround a number of other forest fires ignited by lightning last month.
"Mother nature just kind of keeps throwing us obstacles our way," said Edwin Zuniga, a spokesman with the California Department of Forestry and Fire Protection, working together with the Forest Service to tamp out the blaze.
Meanwhile, firefighters and residents were scrambling to save hundreds of homes as flames advance across the Northern Cheyenne Indian Reservation in southeastern Montana.