Biden to visit site of Florida building collapse as death toll rises to 16
Comments
By AP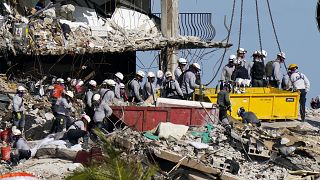 -
US President Joe Biden and first lady Jill Biden will travel to Surfside, Florida, on Thursday to visit with the families of victims of the collapsed Miami-area condominium tower.
The death toll from the collapse rose to 16 on Wednesday after four more bodies were found in the rubble. Another 140 people are still unaccounted for.
In addition to the four bodies, crews also found other human remains.
Rescuers were able to build a ramp for a crane to reach areas at the top of the pile they had not been able to access before, Miami-Dade Assistant Fire Chief Raide Jadallah said.
State Fire Marshal Jimmy Petronis described the ramp as "a Herculean effort" that would allow the use of more heavy equipment.
"Now you are able to leverage massive equipment to remove mass pieces of concrete that could lead to those incredible good news events," Petronis told Miami television station WSVN.
Crews from across Florida and from Mexico and Israel have descended on Surfside to join the effort. More than 400 rescue workers are at the scene, rotating in and out from the rubble every 45 minutes during 12-hour shifts. At any given time, six or seven squads — each with six members — tramp over the mountain of debris or tunnel into it.
The search for survivors continued amid anguished pleas from family for rescuers to work more quickly. On-and-off downpours have not stopped the crews. Nor did a smoky fire smouldering deep within the ruins. The oppressive Florida heat hasn't helped either.
No one has been pulled out alive from the ruins since the first hours after the building fell last Thursday.
"Those first responders are breaking their backs trying to find anybody they can," Gov. Ron DeSantis said Tuesday.
Florida officials say they have requested help from the federal government as they near the end of the sixth day searching the rubble of the collapsed condo building.
Biden has offered federal help and extended his concerns to the community as people "grieve their lost loved ones and wait anxiously as search and rescue efforts continue," as he said in one tweet.
"They want to thank the heroic first responders, search and rescue teams, and everyone who has been working tirelessly around the clock and meet with the families who have been forced to endure this terrible tragedy waiting in anguish and heartbreak for word of their loved ones," White House press secretary Jen Psaki said
The slow work of sifting through the remnants of the collapsed building stretched into a sixth day Tuesday.
In Dallas on Tuesday, Jill Biden mentioned that she and the president will travel to Surfside later this week. She asked the audience to pray that the affected families "have the strength to get through this."
Elected officials have pledged to conduct multiple investigations into the sudden collapse of the 12-story Champlain Towers South in Surfside last week.
Miami-Dade County Mayor Daniella Levine Cava said that she and her staff will meet with engineering, construction and geology experts, among others, to review building safety issues and develop recommendations "to ensure a tragedy like this will never, ever happen again."
State Attorney Katherine Fernandez Rundle said she will pursue a grand jury investigation to examine factors and decisions that led to the collapse.