Could 'competent and credible' Mario Draghi be the right man for Italy?
Comments
By Euronews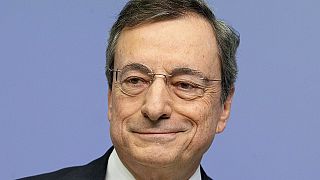 -
President Sergio Mattarella said he wants a non-political government to be rapidly formed to lead Italy during the coronavirus pandemic. This has led to ECB chief Mario Draghi being asked to form a government.
The move comes after talks looking at reviving the governing coalition led by Prime Minister Giuseppe Conte collapsed on Tuesday.
Mattarella said Italy can't afford to suffer through a months-long campaign and early parliamentary election during a "crucial moment" of the pandemic.
He appealed to all political parties in parliament to support the formation of what he called a non-political government.
Mattarella didn't say who he might tap to lead that government. But the individual would likely be someone highly respected and considered by parties to be above the political fray.
Nicknamed "Super Mario″, the 73-year-old Draghi was credited with playing a crucial role in saving Europe's single currency, the euro, when he was the European Central Bank's president.
Cecilia Sottilotta is an Assistant Professor of International Relations and Global Politics at the American University of Rome. She told Euronews that Mattarella's speech last night was very dramatic, and that "Draghi really embodies every single quality that no politician currently has in Italy - he is competent, he is credible, has an excellent reputation in Italy and abroad, he's an incredible problem-solver - however the problem is really that he hasn't been elected, he's presented as a technocrat and this I think speaks volumes."
The pandemic has devastated Italy's long-stagnant economy and left the country with Europe's second-highest COVID-19 death toll.
During the last-ditch discussions that failed Tuesday, the parties in what is now Conte's caretaker government squabbled over European Union pandemic aid and other key policy issues that were blocking the formation of a more solid coalition.