Coronavirus latest: Face coverings to be mandatory on English transport
Comments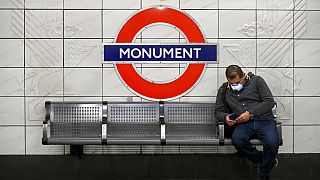 -
Here's a summary of the latest developments
The authors of a study on hydroxychloroquine which halted trials retracted the paper
Face coverings are now mandatory on public transport across England
Austria lifts border restrictions to all neighbours - except Italy
UK records more daily COVID-19 deaths than EU27 together
Freelance interpreters call on EU for emergency support
Hard-hit Sweden admits it could have battled COVID-19 better
Anti-vaccine movement could hamper fight against COVID-19 cure
Coronavirus statistics: Latest numbers on COVID-19 cases and deaths
Which European countries have opened their borders ahead of the summer holiday season?
06.04.2020
21:53
Three of the authors of study that led to hydroxychloroquine trials being halted have retracted the study
The Lancet Journal has announced that three of the authors of the "Hydroxychloroquine or chloroquine with or without a macrolide for treatment of COVID-19: a multinational registry analysis" released on May 22 have retracted their study.
"They were unable to complete an independent audit of the data underpinning their analysis. As a result, they have concluded that they "can no longer vouch for the veracity of the primary data sources"," the Lancet said in a statement. 
"The Lancet takes issues of scientific integrity extremely seriously, and there are many outstanding questions about Surgisphere and the data that were allegedly included in this study," it added.
The study had found that there were little to no benefits for COVID-19 patients to take the anti-malaria drug and that it might, in fact, increase mortality. 
06.04.2020
20:38
44 new COVID-19 deaths recorded in France
The French Health Ministry said that 44 new deaths were recorded in the country's hospitals over the previous day, bringing the death toll to 29,065.
The ministry did not communicate the latest numbers from care homes and said it would do so on June 9. 
06.04.2020
20:06
UK death toll nears 40,000
A further 176 people have died from COVID-19 in the UK over the previous 24 hours, the Department for Health and Social Care.
The total death toll now stands at 39,904.
More than 220,000 tests were also conducted in the UK over the previous day, of which 1,805 were positive. Britain has recorded a total 281,661 infections.
06.04.2020
19:59
UK business minister tests negative for COVID-19
UK business minister Alok Sharma self-isolated after falling ill in the House of Commons on Wednesday.

But he has revealed in the last hour that he tested negative for the disease.
06.04.2020
19:38
Belgium launches 'helpy hour' to boost bars
Before the coronavirus pandemic, we had happy hours where bars and pubs offered drink promotions at set periods of the day. 
Well, now we've got a "helpy hour".
It's all part of a bid in Belgium to help it boost its beer industry. 
As bars prepare to reopen next week following two and a half months of closed doors due to the coronavirus pandemic, Belgian beer lovers are being urged to buy one drink for the price of two in support of their favourite locals.
"Now that bars are slowly reopening after they had to close for months, it's time to return the favour," the federation of Belgian cafes said to promote the campaign. 

Read more on this subject: Huge hangover as Europe's bars and breweries face battle for survival
06.04.2020
18:46
Italian death toll rises by 88
Italy's health ministry
has announced that the death toll in the country from the pandemic has reached 33,689 after a one-day increase of 88 fatalities.
06.04.2020
18:36
UK Business Secretary 'awaiting test result'
Britain's Business Secretary Alok Sharma "is fine" and "working from home", Grant Shapps told reporters. 
Sharma is self-isolating after becoming unwell in Parliament on Wednesday.
Shapps added that Sharma is "awaiting his test result" and that he and Prime Minister Boris Johnson stood two metres apart at all times during a recent meeting. 
06.04.2020
18:18
UK government to hand out £50 voucher to fix bikes
Shapps said a £50 (€56) voucher to encourage people to take up cycling. He added that there's been a 100% increase in weekday use of cycling compared to pre-pandemic times and a 200% surge at the weekend.
The Transport Secretary said the government wants "to permanently change the way we travel".
06.04.2020
18:13
Face coverings to be mandatory on UK public transport
Grant Shapps said that the next easing of restrictions in the UK is, "permissions permitting," likely to occur on June 15 and that the number of people using public transport is thus expected to rise.
"Keeping two metres apart is not always possible at all times" on public transport, Shapps said, so users "will be required to wear face coverings on transport networks".
Very young children, disabled people and those with breathing difficulties will be exempted.