Coronavirus latest: No new deaths in Spain for first time since early March
Comments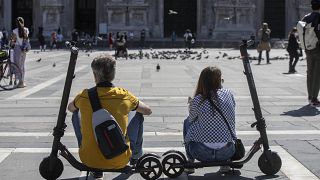 -
A summary of the latest developments
Spain had no deaths due to coronavirus on Sunday, a first since March

There were just 178 new coronavirus cases in Italy, the lowest number since February 26th

The UK had 111 deaths in 24 hours, the lowest death toll since late March

More than six million people have had confirmed cases of COVID-19 worldwide
06.01.2020
22:56
That's it from us tonight. Please join our coronavirus coverage from 6:00 am CEST tomorrow morning.
06.01.2020
22:55
France to open bars and restaurants from Tuesday
Bars, restaurants, museums, and more will reopen from Tuesday in France as part of a phase two of easing coronavirus restrictions.
Many restaurants began to set up terraces in preparation for the first day since mid-March that they could welcome members of the public.
Here's what people will be able to do in France from Tuesday:
Go to a cafe, bar or restaurant, although they now will have to keep a distance of one metre from other tables
Travel more than 100 kilometres from their residences
Go to the theatre for a show, although social distancing measures will have to be in place
Take a swim in the pool or go to the gym
See a piece of artwork in a museum or visit a national monument, although they must wear a mask
Go to the beach or the lake throughout the country
Sit in the park or garden in areas such as Paris that were more heavily impacted by the epidemic
Attend secondary school or high school, many of which will reopen next week
06.01.2020
22:51
Bars and restaurants reopen in Finland and Norway
Bars and restaurants reopened in Finland and Norway on Monday after being closed due to the coronavirus outbreak.

Small groups quickly formed on terraces as restaurants reopened.

Finland has had 318 deaths linked to the COVID-19 and more than 6,800 infections. Neighbouring country Norway has had over 8,400 cases and 236 deaths.
06.01.2020
22:34
Eurozone manufacturing bouncing back, but still struggling
A survey showed that Eurozone manufacturing bounced back in May after crashing to its lowest level in April due to lockdown measures put in place to stop the spread of coronavirus.

Despite some improvement, the score for May still shows "we're a long long way from a market that's growing and thriving again," said business analyst Guy Shone.

Watch the full report below:
06.01.2020
22:24
Officials worry that US protests could lead to more coronavirus infections

Some officials have expressed concern that mass protests against systemic racism in the US could lead to more coronavirus infections.
"You turn on the TV and you see these mass gatherings that could potentially be infecting hundreds and hundreds of people after everything that we have done," New York Governor Andrew Cuomo said in the city at his daily briefing.

"We have to take a minute and ask ourselves: 'What are we doing here?'"
The Democratic governor said he agreed with demonstrators fighting racism but said New York is only supposed to open starting next week after three months of an order to stay at home.

"New York City opens next week. It took us 93 days to get here. Is this smart?" Cuomo asked.

Read more about the protests against racism and police violence here: https://www.euronews.com/2020/05/31/george-floyd-killing-violence-and-fury-in-cities-across-us-as-protesters-ignore-curfews
06.01.2020
21:05
Difficult to predict when coronavirus will peak in Central and South America, WHO emergencies chief says

Central and South America are currently witnessing the most intense transmission of coronavirus though it's difficult to predict when the epidemic will peak, the World Health Organization's emergencies chief said.
Five of the 10 countries reporting the highest number of cases are in the Americas, Dr Michael Ryan said, including the U.S., Brazil, Peru, Chile and Mexico.

Growth of cases is not exponential but there is a progressive increase in cases.
"We're particularly concerned about places like Haiti because of the inherent weaknesses in the system," Ryan said at a press briefing on Monday. "I think we now absolutely need to focus on supporting particularly Central and South America," he said.
"I don't believe we've reached the peak" in the Americas, Ryan said, noting that fragile health systems in the region.
06.01.2020
19:33
France records an additional 35 deaths in hospitals in 24 hours
France recorded 35 deaths in hospitals in 24 hours, according to Public Health France.

There are 14,288 people currently in hospital due to COVID-19, and 1,302 in intensive care, the Directorate General for Health said in a statement.

There have been over 150,000 cases of coronavirus in France since the beginning of the epidemic.
06.01.2020
19:01
Spain records no deaths in 24 hours, a first since early March
Spain reported no deaths in 24 hours from COVID-19 for the first time since March.
The development is "very, very encouraging," emergency health response chief Fernando Simón said.
The country also recorded just 71 new COVID-19 infections over the past 24 hours, AP reported.
"We are in a very good place in the evolution of the pandemic," Simón said. "The statistics are following a trend. They are going in the right direction."
06.01.2020
18:46
Italy records just 178 new cases, the lowest number since February
Italy recorded just 178 new cases of coronavirus on Monday, which is the lowest number since February 26th, the country's Civil Protection Authority said in a statement.

The total number of people who currently have coronavirus in Italy is 41,367, with a decrease of 708 patients compared to yesterday. Among the currently positive, 424 are undergoing intensive care and 6,099 people are hospitalised with symptoms.

Another 60 people died in 24 hours, bringing the total death toll due to coronavirus to 33,475.

Most of the positive cases in Italy continue to be in the northern region of Lombardy.
06.01.2020
18:42
Minor differences in UK lockdown rules but major principles are same, officials say
UK health minister Matt Hancock said he spoke to his Scottish counterpart frequently about lockdown rules but that legally the powers to implement the lockdown are devolved.

Hancock said he respected "the Scottish government's right" to take "different decisions,".

"The overall responsibility for public health emergencies is a UK-wide one," Hancock added, but there are differences on the ground and a slightly different "shape" of the pandemic in Scotland.

People who have been shielding are now allowed to go outside in England but they are not in Scotland, for instance.

"We give very similar advice," added Prof Newton and they try to have the same "principles".

"We do everything we can to simplify and unify," Prof Newton said.