Watch: Italians defy coronavirus lockdown by filling the streets with song
Comments
By Euronews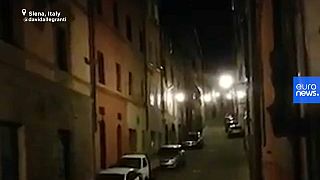 Stuck at home alongside millions of other Italians due to a country-wide lockdown, the residents of Siena, in the Italian region of Tuscany, joined their neighbours in filling the streets with song. 
They chose the song 'Canto della Verbena', a traditional song from the Tuscan town.
The lockdown in Italy has quarantined millions as deaths from coronavirus exceed 1,000 people and cases are over 10,000. 
**Watch the video in the player above. **