Three dead in Al-Shabab attack on base used by US military in Kenya
Comments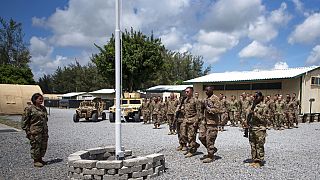 Copyright

AP - Staff Sgt. Lexie West

-
A key military base used by US counter-terrorism forces was overrun by Al-Shabab extremists at dawn on Sunday, killing three American Department of Defense personnel and destroying American aircraft and vehicles.
It was the al-Qaida-linked group's first attack against US forces in the country, and the military called the security situation "fluid" several hours after the assault.
The US military announced on Sunday night that three American Department of Defense personnel died in the attack.
A US Africa Command statement, issued after al-Shabab released photos of blazing aircraft, said the Manda Bay airfield was "still in the process of being fully secured." Kenyan military spokesman Paul Njuguna later said five attackers were dead.
Al-Shabab, based in neighboring Somalia, claimed responsibility.
The camp has under 100 US personnel, according to Pentagon figures.
US Africa Command spokesman Col. Christopher Karns confirmed the attack but called al-Shabab's claims to have inflicted severe casualties "grossly exaggerated."
A Kenyan police official said five suspects had been arrested.
It comes just over a week after an al-Shabab truck bomb in Mogadishu killed at least 79 people.