Tunisia presidential election: Two unofficial exit polls project landslide win for Kais Saied
Comments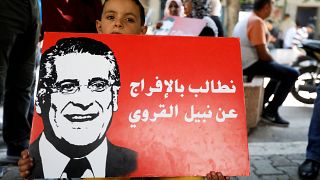 -
An unofficial exit poll conducted by Sigma Consulting projected a landslide win in the Tunisian presidential election for independent candidate Kais Saied on Sunday, saying he had taken 76.9% of the votes.
Public TV station Wataniya announced Saied had won with 76.9% of votes, citing the Sigma Consulting exit poll.
An earlier unofficial poll published by a different company projected Saied to have taken 72.53% of the votes in the runoff election against media mogul Nabil Karoui.
Official results are expected Monday.
Tunisia returned to the polls on Sunday to elect a successor to Mohamed Beji Caid Essebsi, who died in July aged 92.
Essebsi was Tunisia's first democratically-elected president after the 2011 revolution unseated Zine El Abidine Ben Ali and sparked the Arab Spring.
The two men standing have both been ranked as outsiders but beat 24 other candidates in the first round of voting last month.
Nabil Karoui is a media mogul who was unable to cast his ballot due to being in jail after being arrested in August on three-year-old charges of tax evasion and money laundering but was released by an appeal court decision four days before Sunday's vote.
His adversary, populist candidate Kais Saied, is a professor specialised in constitutional law who has called for the reinstatement of the death penalty and described homosexuality as a foreign plot against Tunisia.
Saied thanked the country's young people "for turning a new page" and vowed to try and build "a new Tunisia". 
Around 90% of 18 to 25 year-olds voted for Saied, according to the Sigma poll, compared with 49.2% of voters over 60. 
"Kais Saied, voice of the people," a gathered crowd chanted. "Long live Tunisia!"
No polls have been published since before the election period, but Saied secured 18.4% of votes and Karoui 15.6% in the first round of voting.
While the president in Tunisia has fewer powers than that of the prime minister, the role remains the country's most senior directly elected official and has far-reaching political influence.
The parliament, elected last Sunday, will choose the prime minister.
How did the first election play out?
Turnout was lower than the previous election — just 45.02% turned out to vote, the Independent High Authority for Elections announced after polls closed.
The pre-election televised debate included a total of 26 candidates who duked it out over three nights in Tunis, in a live broadcast shown on 11 television channels and more than 20 radio stations across the Arab world.
A backdrop of public dissatisfaction
Given the destruction of Libya and Syria and descent of General Abdel Fattah el-Sisi's Egypt back into authoritarianism, Tunisia is often cited as the Arab Spring's sole success story, but it has been far from an easy transition for the north African country.
As in neighbouring Egypt, Tunisia has implemented spending cuts and tax increases in order to liberalise its economy, but rising unemployment — from 12% before the revolution to 15% in 2019 — and an ongoing security crisis has made life for many Tunisians more difficult than ever.
In 2013, opposition leader Chokri Belaid was shot dead, and 2015 saw the so-called Islamic State attacks on the Bardo Museum in Tunis and at a beach resort in Sousse, killing 60 people in total. Meanwhile, more Islamic State fighters came from Tunisia than any other nation.
"There is a disappointment with what democracy has produced so far since the revolution. It has been eight years and people's lives haven't got any better," Anthony Dworkin, a senior policy fellow at the European Council on Foreign Relations, told Euronews.
"The economy is still a mess [...]. People are losing faith in the nation's democratic system. There's this real sense that all these politicians are the same, and that creates an opening."
Want more news?