Turkish police arrest hundreds over suspected links to Kurdish militant group
Comments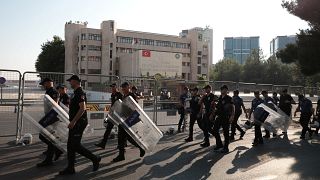 -
Turkish police have detained 418 people and dismissed three mayors suspected of having links to the Kurdistan Workers' Party (PKK), the Interior Ministry announced on Monday.
The arrests were made in 29 provinces and "operations are ongoing," the ministry added.
Earlier in the morning, the government had also announced that the mayors of Diyarbakir, Mardin and Van — cities in the southeast of the country — had been dismissed and replaced by state officials. The three mayors belonged to the pro-Kurdish People's Democratic Party (HDP).
They are accused of "trying to use militant resources, financial resources, tools and equipment and logistics centres to support terrorist activities."
"In fact, they tried to make these municipalities part of a separate administration from other regions in our country," the government said.
The Turkish government considers the PKK to be a terrorist organisation and has stepped up its campaign against the in recent years after a ceasefire agreement broke down in 2015.
The PKK says they are fighting for an independent Kurdish state.
READ MORE: Calls grow for release of French academic who is being held in Turkey
"This is a new and clear political coup," the HDP said in a statement. "It also constitutes a clearly hostile move against the political will of the Kurdish people."
It said that the mayors of Diyarbakir, Mardin and Van had been elected with 63%, 56% and 53% of the vote and that their dismissals "usurp the will of the people."
"This government no longer has even a modicum of democratic legitimacy," it added.
Istanbul Mayor Ekrem Imamoglu from the Republican People's Party — who contested the March 31 election twice after his first victory was annulled by the electoral commission following a complaint of irregularities from the ruling Justice and Development Party — also condemned the mayors' removal from office.
He said on Twitter that the move "cannot be explained by democracy and democratic practices. It is unacceptable to ignore the will of the people."
Want more news?