International outcry over repression of protesters by Sudan's military
Comments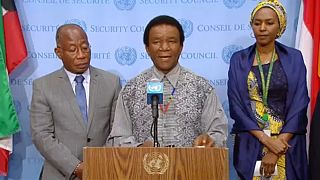 The bloody repression of protesters by the military in Sudan, which led to dozens of victims, has been greeted with a wave of international outcry and widespread condemnation.
Ethiopia has undertaken the role of mediator.
António Guterres, Secretary-General of the United Nations, condemned the violence against protesters and asked for an independent investigation. He reminded that the Transitional Military Council is responsible for the security of Sudan's citizens.
"We strongly condemn and lament the tragic and unjustified loss of life and remind the transitional authorities in Sudan of its obligation to protect civilians and respect their rights," said Jerry Matthews Matjila, the South African ambassador at the United Nations in New York.
The Transitional Military Council has promised to hold elections within 9 months, but protests continue.
The African Union announced the immediate suspension of Sudan's participation in the pan-African organisation, until the creation of a transitional political authority.