Hundreds of mourners pay last respects to motor racing legend Niki Lauda
Comments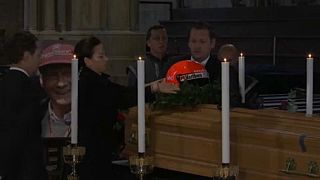 Hundreds of mourners stood with umbrellas outside Saint Stephen's Cathedral in the Austrian capital Vienna to pay their final respects to motor racing legend Niki Lauda, who died last week at the age of 70.
Those at the funeral included Niki Lauda's old colleague on the McLaren team, Alain Prost, as well as Arnold Schwarzenegger and Sebastian Kurz.
Lauda, who won three Formula One titles in 1975, 1977 and 1984, died in hospital last week after undergoing a lung transplant.
After Lauda's coffin was carried into the cathedral to lie in state, his son Lukas was pictured placing his father's helmet on top.
Fans were then invited inside to file past the coffin and pay tribute, before the start of the private funeral.
The three-times world champion will be remembered for his amazing comeback after a horrific crash at the German Grand Prix in 1976, where he suffered severe burns.
He retired from racing in 1985 and moved into team management with Ferrari, Jaguar and Mercedes. His post-racing career also included him setting up two airlines, both bearing his own name.
But Niki Lauda will always be remembered as the defining figure in motor racing.