Cast and director of "Oh Mercy!" on red carpet at Cannes Film Festival
Comments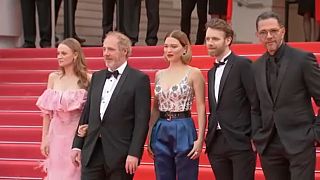 French film director and screenwriter Arnaud Desplechin and the cast of his new film "Oh Mercy!" walk on the red carpet at the 72nd annual Cannes Film Festival.
The film is competing for the most prestigious award at Cannes, the Palme d'Or, and will have to face up against top cinematographers including Pedro Almodóvar, Quentin Tarantino and Ken Loach.
"Oh Mercy!" is a crime drama that is set in a deprived area in northern France. It's a story of two police officers who try to solve a series of every day crimes, but also a special one: the murder of an elderly woman.
The main suspects are two young women, who are played by Léa Seydoux and Sara Forestier.