WATCH: Trump praises Orban for protecting Christians from migrants
Comments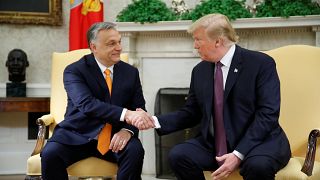 -
U.S. President Donald Trump warmly welcomed Viktor Orban to the White House on Monday, saying the far-right Hungarian leader was "respected all over Europe."
The pair sat down for talks about NATO and trade, less than two weeks before European parliamentary elections in which far-right parties are expected to make a strong showing.
Orban's hardline stance against migrants has attracted criticism from other European leaders, but appeared to find a more sympathetic audience in Trump.
"You're respected all over Europe. Probably like me a little bit controversial, but that's okay," Trump told Orban at a brief news conference. "You've done a good job and you've kept your country safe."
In 2015, Orban erected a razor-wire fence the length of Hungary's southern border to prevent migrants, most of whom travelled from Muslim countries, entering from Serbia.
"You have been great with respect to Christian communities," Trump told Orban. "You have really put a block up and we appreciate that very much."
Hungary missile plan
Asked if he shared European concerns about Hungary backsliding on democracy, Trump said: "People have a lot of respect for this prime minister, he's a respected man. He's done the right thing, according to many people, on immigration."
Orban said: "From the people, by the people, for the people, this is the basis for the Hungarian government. We are happy to serve our nation. We have a new constitution accepted in 2011 and its functioning well."
Trump interjected: "Don't forget they're a member of NATO, a very good member of NATO."
The two leaders were due to discuss Hungary's plan to buy medium-range missiles from the U.S.