Iran nuclear deal tops agenda at talks between Pompeo and EU officials
Comments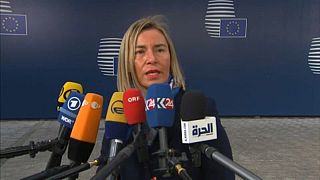 The nuclear agreement with Iran tops the agenda at talks between US Secretary of State Mike Pompeo and European officials in Brussels. The State Department said urgent matters have to be discussed, which is why Mr Pompeo will not now travel to Moscow and cancelled that portion of his trip.
Apart from Federica Mogherini, the European Union's Foreign Affairs and Security Policy representative, it is not yet known who Mr Pompeo plans to meet with.
"We continue to fully support the nuclear deal with Iran and its full implementation. It has been and continues to be for us a key element of the non-proliferation architecture both globally and in the region, so we continue to support it as much as we can with all our instruments and all our political will," said Federica Mogherini.
According to reports, Mr Pompeo will have talks with representatives from the governments of France, the United Kingdom and Germany, which are three of the countries that, along with the US, China and Russia, had signed the 2015 Joint Comprehensive Plan of Action, the international agreement for Iran's nuclear programme. President Donald Trump withdrew the US from that deal a year ago but Britain, France, Germany, Russia and China remain.
Last week, European countries said in a joint statement that they would reject "ultimatums" from Iran, and urged the country to continue its commitments under the Iran Deal. Tehran had said it planned to cease "some commitments" on its deal.
In addition to pulling out of the Iran nuclear deal, President Trump has also imposed sanctions on Iran's iron, steel, aluminium, and copper sectors, and designated Iran's Revolutionary Guard a "foreign terrorist organization."
After Brussels, Mike Pompeo is expected to travel to the Black Sea resort of Sochi for talks with Russian President Vladimir Putin and Foreign Minister Sergei Lavrov.