European football first after four English clubs reach both Euro finals
Comments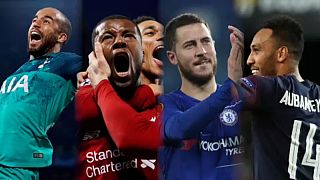 English clubs have made European football history, as for the first time the four teams that have reached the finals of the top two competitions in Europe are all from the same country.
Liverpool's always passionate manager Jurgen Klopp was in a humorous mood as he tried to make a joke about the English footballing achievement, using a Brexit analogy as a comparison.
"At least the big clubs in England want to stay with all they have in Europe... You didn't understand that now? Because the rest of the country doesn't want that," said Liverpool manager Jurgen Klopp.
In a footballing first, England this year became the first country to have four-out-of-four teams in the finals of both the Champions League and the Europa League tournaments.
In Madrid, Liverpool will face Tottenham for the top-flight Champions League trophy, while in Baku in Azerbaijan, Arsenal will face Chelsea in an all-London derby for the Europe League title.
Up until this year, it was Spain that had achieved the highest representation in the top two football tournaments, with three Spanish teams getting into the finals of the 2015-2016 season: Real Madrid and Athletico in the Champions League and Seville in the Europa League.