European leaders aim to project unity at informal EU summit in Romania
Comments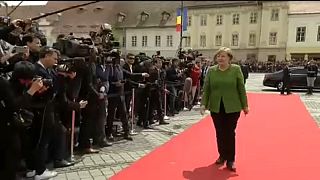 European leaders are holding an informal EU summit on Europe Day on May 9 in the Romanian city of Sibiu. The 27 EU leaders will try to project an image of unity at a preparatory summit that will focus on Europe's internal strategic agenda for the next five years.
This was supposed to be the summit to re-launch the EU, post-Brexit. The UK was meant to leave on March 29, but it's now delayed until October 31.
"We will discuss our strategic agenda for the future. We will try to agree on a common statement, that all the EU countries must cooperate closely, overcoming the political differences between the member states," said German Chancellor Angela Merkel.
On his arrival, France's President Emmanuel Macron referred to three things he will put to European leaders. These are measures on climate change, the security of borders and a structured economic and social model for growth. He also referred to the dilemma of Euro-elections.
"More than 400 million European citizens are being called on to choose. A very clear alternative solution. It is possible to again build something together, even differently, to improve things, or to deconstruct, to destroy Europe and to return to nationalism. And this choice presents itself in many countries and we must face up to it, and for me it is an absolutely crucial choice for the coming years," President Macron said.
Discussions concerning migration, growth, security, taking unanimous decisions and climate change will be high on the agenda at the summit. Who will head up the five European institutions will also be in focus. Discussions, however, will likely crystallize at the EU summit on May 28 after the results of the European Parliamentary elections are known.