US President Donald Trump to make state visit to the UK from June 3-5
Comments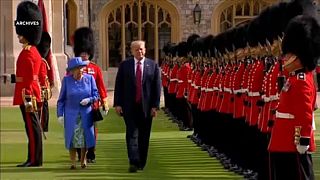 US President Donald Trump's state visit to the United Kingdom on the invitation from Queen Elizabeth II will take place on 3-5 June, according to a statement from Buckingham Palace.
Britain hopes this visit will bolster transatlantic relations.
Donald Trump was previously in the UK in July 2018. At the time, he was greeted by mass demonstrations against him.
On leaving Britain, President Trump will travel to France for a meeting with French President Emmanuel Macron, according to a White House announcement.
President Trump is expected to be present at the celebrations to mark the anniversary of the Normandy landing by Allied Forces.