'Yellow vest' protests continue, clashes with riot police in Nantes
Comments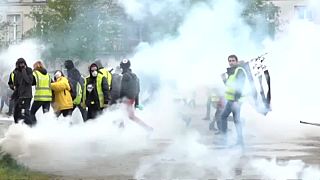 Five months after the birth of the yellow vest movement in France, protests continue, often turning violent, as happened in the western French city of Nantes on Saturday.
The protests, named after the high-visibility safety jackets worn by demonstrators, began in November to oppose fuel tax increases.
However, the movement quickly morphed into a broader backlash against President Emmanuel Macron's government, despite a swift reversal of the tax hikes and other hurried measures worth more than €10 billion to boost purchasing power for lower-income voters.
For the 21st Saturday in a row, demonstrators took to the streets around the country, with the Interior Ministry estimating that 6,300 people took part in the protests. Half of those marched in Paris.
"The message is that we won't quit. We want to go all the way and to earn the right for a referendum, because if the government is still in power, we will not have achieved our aim. So, it's a war of attrition. If we demolish everything, we will be able to reconstruct something new from the start. We will have all the time to build something that will be ours," one demonstrator said.
"We will continue until victory. We won't quit because up to now we haven't won anything. We have a corrupt system, the elite governs the people. We will continue to battle as long as they don't take the peoples' views into account, as long as the people are not a priority for those in power," another protester said.
Despite the scuffles in Nantes, other demonstrations in major French cities remained calm on Saturday compared to recent weeks in part because of a high level of mobilisation of police.
Police made 21 arrests at a time when President Macron is relieved by the diminishing intensity of the protests.
The French President is expected to submit proposals by the end of the month on the strategy and policies that his government will follow after a dialogue with citizens.