European Parliament calls for suspension of Turkey EU accession talks
Comments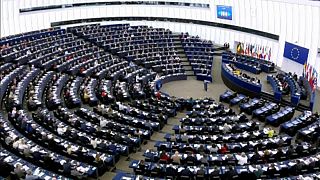 The European Parliament has called on the European Commission and member states to officially suspend negotiations for Turkey's EU accession.
The move follows a vote in the European Parliament, with 370 MEPs in favour, 109 against and 143 abstentions, backing a report that reiterates a lack of respect in Turkey for a state of justice and fundamental rights, including discrimination relating to power, democracy, freedom of expression and the media.
"I think it has two main elements. On the one hand, saying the European Union should stick to its values. The second message which is in the report is, of course, how can we help democrats in Turkey. This is not the time to leave them alone," Kati Piri, a Dutch Euro MP and the European Parliament's Turkey rapporteur, told Euronews.
German MEP and European People's Party member Renate Sommer had called for a halt to talks, something that was not approved.
"I know it's impossible to make Turkey a member, especially since the new Constitution has come into force, because the new Constitution is anti-democratic, and that means anti-European," she told Euronews.
"I'm in admiration for those who keep fighting in Turkey, despite the tremendous threats and danger that we see. It's time, the right time for the EU to impose an arms embargo on Turkey," said Portugese Euro MP and a member of the European Socialists Ana Gomes.
Euro MPs are deeply concerned that over 150,000 people were detained after the attempted coup in Turkey, while 78,000 were arrested on terrorism charges despite the fact that there was no proof in the majority of the cases.
The report also condemns the closure of 160 media outlets, along with a high number of arrests of journalists and other media employees.
However, some Euro MPs are in favour of dialogue with Turkey remaining open.
"For me, it's still open. This is not the end of a process with Turkey, but it's a signal to those in power in Turkey forgetting about democratic principles, about rule of law and the values for which the European Union stands for," said Rabecca Harms, a German MEP and member of the Greens.
A final decision for the suspension, termination or continuation of accession talks can only be taken by the heads of member states at the European Council.