Swiss students follow example of young climate activist Greta Thunberg
Comments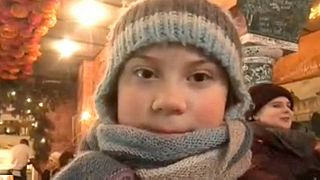 Thousands of Swiss students, some as young as 14-years-old, took to the streets of several Swiss cities on Friday to denounce the lack of government action to fight global warming.
The movement was inspired by Swedish student, Greta Thunberg - just 16 years old - who stands every Friday outside the parliament building in Stockholm to highlight the problems caused by climate change.
Greta came to the public's attention last year when she refused to go to school until the Swedish government focused its agenda on the world's climate crisis.
She told Euronews that holding her Friday protests is the only way to make her voice heard as she is too young to vote.
And she says she is not ready to stop yet and could continue demonstrating for another two years at least.