Have the so-called Islamic State really been defeated in Syria? Euronews asks experts
Comments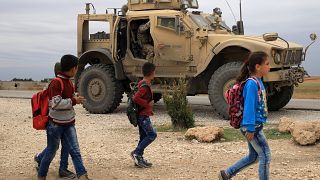 -
US President Donald Trump announced on Wednesday that American troops had defeated the so-called Islamic State group in Syria. Few agree.
Experts across the board have criticised Trump's statement, affirming instead that the fight against IS, known in Arabic as Daesh, is far from over.
Euronews looks at the different reactions.
France
The French Minister for Armed Forces, Florence Parly, tweeted on Thursday that Daesh "was weaker than ever."
"But Daesh is not erased from the map, nor its roots, we must definitively and militarily defeat the last pockets of this terrorist organisation," she added.
UK
In its own statement the British government issued a similar analysis saying that although the Global Coalition had recaptured large swathes of militant territory "much remains to be done and we must not lose sight of the threat they pose."
"Even without territory, Daesh will remain a threat," it added.
Syrian Democratic Forces
The Syrian Democratic Forces (SDF) — the US-backed alliance of Kurdish and Arab militias — said "the final defeat has not yet been achieved" and that US withdrawal will "negatively affect the campaign against terrorism."
It warned in a statement that Trump's decision will "have serious repercussions that will affect stability and world peace" and instead called for greater support from the international coalition.
14,000 fighters
Lina Khatib, head of the Middle East and North Africa Programme at the London-based Chatham House think tank, told Euronews that according to US government estimates "there are currently 14,000 IS fighters in Syria alone and more in Iraq."
For Khatib, the US withdrawal will enable the terror group to "regenerate" in Syria which could trigger a new phase of attacks across the region and elsewhere as it seeks to prove it is still powerful and that it "is a force to be reckoned with in order to rally supporters.
'A waste'
Charles Lister, director of the Countering Terrorism and Extremism Programme for the Washington-based Middle East Institute, branded Trump's decision to withdraw as "naive."
"Everything the US has fought for in Syria will have been wasted," Lister tweeted, adding: "We'll be back in a few years, at most."
Lister said the decision will be "music to the ears of" IS, Assad, Russia and Iran but suggested the US could remain involved in the Syrian conflict in another capacity.
'Further complication'
Francesca Fabbri, a Middle East expert from the Brussels-based European Policy Centre, is also of the opinion that the US withdrawal "will lay the ground for IS to try to be reborn" which will engender "further complication" in the Syrian internal conflict but also within the wider region.
The other main complication Fabbri flagged to Euronews that is the US pull-out "will leave a free hand to Turkey to attack Kurdish forces, allies of Washington against the IS, in the area."
Turkey, which has labelled several Kurdish groups as terror organisations, entered the Syrian conflict in the summer of 2016.
President Recep Tayyip Erdogan warned in a televised address last week that the country could soon launch an operation against a Kurdish-held enclave in northeast Syria.
'Complicate political deals'
According to Ruslan Mamedov from the Moscow-based Russian International Affairs Council, Trump's decision is likely to boost relations between Turkey and the US.
He also expects some deal to be struck between Syrian Kurds and Damascus to normalise relations in exchange of some territories.
But these "will complicate any further political deals between Moscow and Ankara on Syria," Mamedov told Euronews.