Calls for Haiti's president to resign intensifies
Comments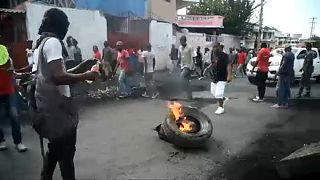 Opposition political parties intensify their calls for Haiti's president to resign.
It's after around a dozen protestors died when a car was set on fire after it ploughed into a crowd on Wednesday.
The demonstration was about allegations of corruption in the previous government over a Venezuelan subsidized energy program.
But in a brief televised address on Wednesday, President Jovenel Moise said he wasn't stepping down. He added, people had the right to protest and that he was keeping all victims in his thoughts. He made no mention about the allegations of corruption.
Schools and government offices remained closed on Wednesday, as did many banks and grocery stores. Government trucks also cleared many streets blocked by barricades of tyres.