Bahrain Bikers gear up to drive MENA road safety forward
Comments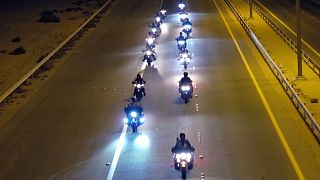 The Bahrain Bikers, a group of 31 motorcycling enthusiasts are taking to the streets of Bahrain to tackle road safety issues in the region.
Mostly formed by male bankers and businessmen in their mid-40s, the gathering also counts teenagers and 60-year-old retirees amongst its dedicated members.
Sayed Ebrahim is an engineer and father-of-four who says that the group has been there for him through thick and thin since its inception in 2012.
"Honestly, whenever we have any issue - any support, any help - they are ready to do so," he says.
Ebrahim owns a 2010 Harley Davidson Heritage Classic which is worth about $27,000. He rides with his comrades around four times a week despite the summer heat which can average 40 degrees Celsius.
ROAD SAFETY: A CONCERN TO MOTORCYCLISTS ACROSS THE REGION
One of the main issues raised by the group is the region's driving culture, with some motorists displaying an inconsiderate attitude towards motorcyclists.
According to the World Bank, for every 100,000 people in the MENA region, approximately 20 were killed in road accidents in 2015. This figure is four times higher than the number of fatal accidents recorded in European Union countries that same year.
According to the report, however, Bahrain has one of the lowest road accident death rates in the Middle East region.
Ebrahim is a certified road captain and he coaches groups of bikers on traffic codes before embarking upon their weekly trips.
Road captain Sayed Ebrahim speaks of the importance of putting traffic safety forward, particularly in the region
The Bahrain Bikers founded the regional Bikers Network in 2012.
This year, 21 motorcycling groups from countries including Saudi Arabia, Iraq and Jordan came together in Bahrain's capital Manama.
The objective of the gathering was to improve safe driving practices whilst exploring new places on two wheels.
The group also seeks out like-minded groups from other countries like the Dragon Bikers from Kuwait and the Muscat Bikers of Oman.
Back in 2015, the tour went as far as the United States and a group of around 10 enthusiasts cruised for about 4,000 km over 11 days - from Oregon to the Grand Canyon in Arizona. The trip was arranged by the only female full-member of the group.
VROOMING PAST GENDER STEREOTYPES
Anne Al Zayani, originally from Oregon, is married to a Bahraini and has lived in the country since 1989.
Whilst Al Zayani says the group are "incredibly respectful" with her, she believes that the situation could be different with other women.
"They [the men] think it's really awesome that I ride," she says, "But on the other hand, they probably wouldn't let their wives or their daughters ride a motorcycle. So, it's kind of a two-sided coin."
The only female full-member of the Bahrain Bikers, Anne Al Zayani is nicknamed 'the mum'
The mother-of-four has been cruising with the Bahrain Bikers for about six years on a limited-edition Harley Davidson, which she had shipped all the way from the United States.
She says that the Bahrain Bikers are "her family" and they have nicknamed her the "mum".
For Al Zayani, gender doesn't affect a person's ability or desire to ride a 335kg motorbike.
"It's a "man's thing", but it's not really because there are a lot of women who ride motorcycles," she says.
Despite knowing around 20 other Bahrani-based women who share her passion for biking Anne adds that, for now, she prefers to saddle up and ride alongside her biker brothers.