France suspends use of one of Europe's most popular pesticides after farm workers fall ill
Comments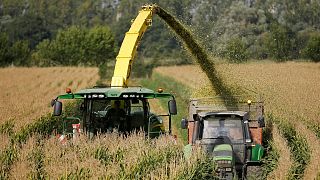 The French government has ordered a three-month ban on one of Europe's most widely-used pesticides after reports of farm staff and residents falling ill in recent weeks.
The move to ban products based on metam sodium followed reports of three cases of "respiratory poisoning" in the Maine-et-Loire department in the past two weeks, and another case of poisoning in the department of Finistère, the ministry of agriculture said in a statement on Friday.
"This suspension is pending the outcome of the review of the terms and conditions of use of these products", the statement said.
Metam sodium, one of the most widely used pesticides in the US and Europe, is considered a "probable human carcinogen" by the US Environmental Protection Agency and is not meant to be applied directly to plants.
The ministry said initial findings suggested that recommendations for the use of plant protection products had "not been correctly respected" in the cases of poisoning identified, while climatic conditions may also have contributed to the issue.
Of 61 reported cases across the country in recent weeks, 17 people had to be briefly hospitalised, prompting local authorities to suspend use of the chemical earlier this month, AFP reported.
Metam sodium is authorised in the European Union until 2022, when it is due to come up for review by regulators.