New York judge dismisses major charge in Weinstein criminal case
Comments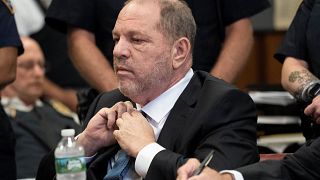 A New York judge has dismissed a major charge in the criminal case against Harvey Weinstein in relation to accusations made by Lucia Evans.
Evans was a 21-year-old college student in 2004 when she claims the former American film producer forced her to perform oral sex when the met alone in his office.
The charged dismissed was Count 6, a criminal sex act in the first degree. Weinstein, 66, has pleaded not guilty and is free on $1 million bail.
Prosecutor Joan Illuzzi-Orbon did not oppose the dismissal but added that this disclosure does not impact the strength of the remaining case. The prosecution assured they are "moving full-steam ahead" on all other counts.
Defence attorney Ben Brafman called today's proceedings a "positive development" and accused prosecutors of withholding evidence that could have swayed the grand jury not to indict Weinstein in regards to the Evans accusations.
"Sexual assault is a serious crime," Brafman said outside the courthouse in Lower Manhattan Thursday, "but falsely accusing someone of sexual assault is also a serious crime." Bradman accused Evans of lying to the grand jury during her testimony and called for the district attorney to look into prosecuting her for perjury.
US-based tabloid website TMZ reported last week that a casting director claimed Evans once told her she performed oral sex on Weinstein to gain an acting role. The casting director reportedly gave police that statement, but investigators failed to share it with prosecutors.
A lawyer for Evans said they were disappointed by the decision, saying in a statement the district attorney abandoned their client.
Weinstein's defence has until 2 November to file motions and prosecution must respond by 16 November. The next hearing where Weinstein is scheduled to appear is set for 20 December.