Migrants hotspots: the Niger laboratory
Comments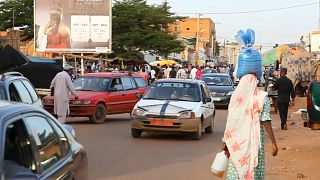 Niger is a major transit country for migrants wanting to reach Europe. It is fighting irregular immigration from western african countries, but is also hosting refugees and internally displaced people by the thousands. Europe want to make it one of the so-called « hotspots » where migration flows towards Europe can be processed. euronews reporter Valérie Gauriat reported on the realities on the ground.
In the streets of Niamey, the capital of Niger, informal markets like this one are for many the only way to survive, in a country labeled as one of the poorest in the world.
Yet it is also hosting over 300000 refugees and internally displaced persons fleeing conflict in other countries and at its borders.
But when it comes to creating so-called hotspots on its territory, as suggested by France, to process migrants hoping to go to Europe, the government of Niger is skeptical.
"I'm mainly in favour of european countries finding ways together to promote a new type of relationship with african countries, based on the delivery of visas according to the needs expressed by companies in Europe", says Mohamed Bazoum, Niger's Interior Minister
Niger has agreed last year to host refugees evacuated from Libya, and potentially eligible for resettlement in Europe.
A programme managed by the UNHCR.
We met two somalian women at one of the organisation's centre in Niamey. They don't want to be recognised.
They endured daily torture in libyan detention centres, after fleeing persecution in their home country.
Evacuated to Niger 3 months ago, they are now waiting for a green light to go to France.
"The only reason I left my country was to get help" says one of them. "I had to escape from all the problems I had there. I needed to reach a safe place. A place where I could find some hope. People like me need hope.", she point out, bursting into tears.
Out of 2600 pledges from 10 countries, most of them european, less than 400 refugees have yet been resettled so far.
Many more are hoping to be taken on board the programme.
Among them, some 2000 asylum seekers from Darfur in Sudan, have converged in the town of Agadez, in central Niger.
Badererdeen Abdul Kareem dreams of completing his veterianarian studies abroad.
"I almost lost half of my life because of the wars, traveling from Sudan to Libya", he tells us. "And my message to the EU is that I hope they drop this crazy idea that refugees or migrants are not good. I hope they welcome us."
The calls from French president Macron to make transit countries hotspots for migrants has been a pull factor for many who came to Niger.
But the long wait for a reply to their asylum request is pushing some of the most desperate back on the road to Libya, points out our reporter Valérie Gauriat.