Indiana Jones' hat and Han Solo's jacket go under the hammer at London auction
Comments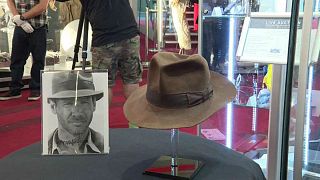 Famous film memorabilia, including Indiana Jones' signature fedora and a jacket worn by Han Solo, went under the hammer in London on Thursday.
In total, more than 600 costumes and props were up for grabs, with other pieces including Marty McFly's hoverboard in "Back To The Future Part II", the board game in "Jumanji", and Johnny Depp's costume in "Edward Scissorhands".
Film memorabilia seller Prop Store held the annual event at the BFI IMAX complex in London, where much of the excitement centred around the jacket worn by actor Harrison Ford in "Star Wars Episode V: The Empire Strikes Back", which carried an estimated price tag of up to £1 million (€1.12 million).
Indiana Jones' fedora hat from "Raiders of the Lost Ark", and his bullwhip from 1984's "The Temple of Doom" were also expected to command big bids. 
Other memorabilia at the Prop Store auction came from famous series including "James Bond", "Harry Potter", "The Godfather" and "Batman".
Results posted to Prop Store's social media pages throughout the auction confirmed the sale of items including a lightsaber for £135,300 (€152,415) and the Captain America costume for £55,350 (€62,355).