Switzerland: 30 farmers killed in fatal accidents this year due to drought
Comments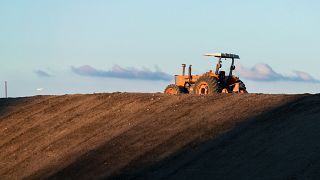 This year, more farmers have been killed in fatal accidents in Switzerland than in the whole of 2017.
The Counseling Center for Accident Prevention in Agriculture (BUL) estimates that at least 30 people have been killed since January, compared to 23 the previous year.
Dry soil is as dangerous as wet
Thomas Bachmann, technical director at BUL, told Euronews that the unusually dry climate this year is the reason for the increase.
According to Bachmann, the soil is hardened due to the dryness and the resulting poor traction.
"Most (farmers) are aware of the danger of damp, slippery soils, and even the drought on the many steep terrains in Switzerland is "like soap" for the tractors and vans that are used there."
"Very dry soils are just as dangerous as they are very wet," said Bachmann, adding that older farmers are especially at risk because they "overestimate themselves and be surprised by the difficult soil conditions".
Seatbelts
Bachmann added that the call for wearing safety belts is often ignored. "The belt is a simple but efficient lifesaving tool," says Bachmann.
"For agricultural vehicles, traffic laws only apply to roads but not on the field, forest trails or on steep terrain."
"We demand general belt support for tractor drivers on all surfaces," Bachmann told Euronews
To counteract the trend of increased deaths, the BUL plans to intensify controls and operational visits and now demands all tractor drivers wear a general belt support.