State of the Union: Juncker waves difficult year away
Comments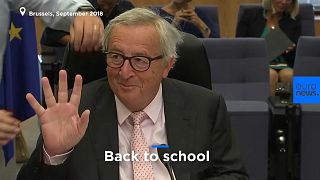 European Commission President Jean-Claude Juncker has had quite the year since delivering his 2017 State of the Union speech.
Back then, Juncker had a few hot files on his desk including Catalonia, which had just voted to gain independence from Spain in a controversial referendum.
Brexit negotiations had also entered a contentious stage, with both sides trading barbs and leaking critical information to the press. Juncker was not spared as details of his secret meeting with British Prime Minister Theresa May were made public.
In the months that followed, the Commission president also had to deal with the possible prospect of a trade war with the United States, which hogged his agenda for weeks. The two sides eventually reached an agreement after Juncker flew to Washington to meet US President Donald Trump.
Juncker also travelled to Tokyo to sign a historic EU-Japan free trade agreement and is credited with strengthening ties with Ukraine and Balkan countries.
Speculations about his health grew in July after he was filmed staggering and being aided by other leaders during a NATO Summit gala.