Finland temporarily suspends Afghan asylum decisions
Comments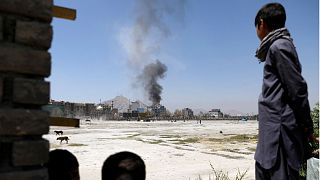 -
Copyright

REUTERS/Mohammad Ismail
The Finnish Immigration Service (Migri) has temporarily suspended asylum decisions from Afghanistan.
The decision was prompted by new policy guidelines regarding the war-torn country from the UN Refugee Agency UNHCR, the agency said.
"We are now going through the guidelines and, if necessary, making adjustments to our asylum policy in regards to Afghanistan," Aino Likitalo, Head of Press and Communications Services at the agency, told Euronews.
Finnish police tweeted saying they would "not be returning people to Afghanistan in the next few days", adding they were "resolving the situation in cooperation with different officials".
Amnesty International recently called for Finland to halt all repatriations of rejected asylum seekers to Afghanistan.
"We've had a clear stance on this for more than a year. This is a very strong position, as we don't make the same demand about any other country," Amnesty Finland director Frank Johansson told Yle's Radio 1 on August 2018.
UNHCR welcomed the move: "We appreciate that practitioners and authorities are using the new eligibility guidelines for Afghanistan to inform their decisions and guide their work," said Spokesperson for Northern Europe Caroline Bach.
The guidelines are a 150-page document based on in-depth research, information provided by UNHCR's global network of field offices, material from independent country specialists, researchers and other sources.
Euronews recently reported on the story of a man who was denied asylum by Finland's immigration service but was later shot dead just weeks after his return to Iraq, according to Finnish public broadcaster YLE.
When asked if the decision to suspend asylum decisions from Afghanistan would affect other countries where there are conflicts, Migri said the move "does not affect decisions concerning asylum seekers from Iraq or other countries".