Growth worries rise as Japan's July factory output falls
Comments
By Reuters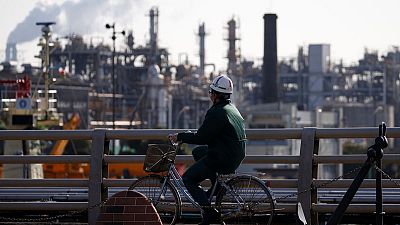 Copyright

Issei Kato(Reuters)

-
By Tetsushi Kajimoto
TOKYO (Reuters) – Japan's factory output fell for a third straight month in July due to slowing exports of cars and steel and flooding that disrupted production, compounded by global trade tensions that cloud the export-reliant economy's outlook.
Trade ministry data out on Friday showed factory output fell 0.1 percent in July from the previous month, undershooting economists' median estimate of a 0.2 percent rise, following declines of 1.8 percent in June and 0.2 percent in May.
Manufacturers surveyed by the trade ministry expect output to rise 5.6 percent in August and 0.5 percent in September.
Factory output has levelled off in recent months due in part to a slowdown in exports. Natural disasters, including early July's heavy rains and flooding in western Japan, temporarily halted production at some companies such as carmakers.
"Japan's exports are facing a severe situation given U.S. trade protectionism and retaliatory measures adopted by its trading partners just as global trade decelerates," said Takeshi Minami, chief economist at Norinchukin Research Institute.
"Japan's future growth will depend on the strength of private demand. But output will remain sluggish for the time being given worsening consumer sentiment due to the heavy rains and heat waves."
July's output was dragged down by automobiles and car parts reflecting declines in Europe- and U.S.-bound shipments as well as effects of the floods. Steel output also fell because of the U.S. tariffs imposed on imports from Japan and other trading partners.
A slowdown in demand for semiconductor production equipment and flat panel displays from China and other Asian countries also dampened overall output.
This means that the outlook for factory output and the broader economy is far from assured, given fragile domestic demand and trade tensions between the United States and its trading partners.
The ministry cut its assessment of industrial output, citing weakness in some areas despite a gradual pick-up in production.
Japan's economy rebounded from a first-quarter contraction in the June quarter led by strong household and business spending.
The unemployment rate rose to 2.5 percent in July from 2.4 percent in the previous month, while the jobs-to-applicants ratio rose to 1.63 jobs per applicant from 1.62 seen in June, posting the highest level since January 1974, separate data showed.
Despite the solid economy and tight labour market, inflation is struggling to accelerate as slow wage gains keep a lid on private consumption because companies are unconvinced about the sustainability of growth and are wary of raising fixed labour costs.
Tokyo's core consumer price index (CPI), which includes oil products but excludes fresh food prices, rose 0.9 percent in the year to August, rising from a 0.8 percent gain in July, still way below the central bank's elusive 2 percent target.
(Reporting by Tetsushi Kajimoto; Editing by Eric Meijer)